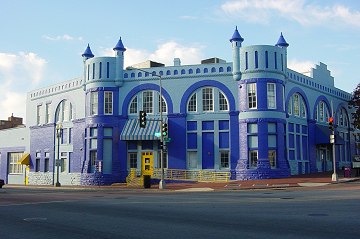 WBJ's Michael Neibauer, with his teeth as always deeply sunken into the news of Lower 8th Street,
is reporting
what I had heard within the past few days but could not confirm, that the
National Community Church
is buying the old Navy Yard Card Barn, aka the Blue Castle, at
770 M Street SE
.
WBJ reports that the sale price is expected to be between $25 million and $35 million, with the church benefitting from a $4.5 million donation to help fund the purchase, along with income from existing leases for the Castle's remaining tenants to help cover the $1.5 million-a-year mortgage.
WBJ says that Batterson told his congregation that the church "hopes to tack on several new floors" to the building--though I have no doubt that that will be a festive trip through the historic preservation review process, along with the Navy giving the stink-eye from across M Street.