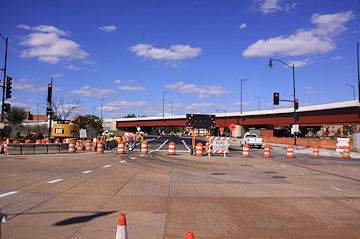 There's been a lot of weekend closures along 11th Street SE in the past few years, thanks to the
11th Street Bridges project
, but this upcoming one is probably a little more disruptive than the others:
"As part of the 11th Street Bridge project, the District Department of Transportation (DDOT) will close the intersection of 11th Street, and M Street, SE from 6:00 AM to 9:00 PM on both Saturday, November 1, 2014 and Sunday, November 2, 2014.
"The westbound I-695 (Southeast/Southwest Freeway) exit ramp to M Street, SE and the on-ramp to southbound I-295/northbound DC 295 at M Street, SE will also be closed during these times.
"The closures will allow crews to complete milling operations at the intersection in preparation for final paving and striping.
"During the intersection closures, temporary signs and traffic control measures will be in place to alert and guide the traveling public around the work zone."
It also would seem to mean that, for all intents and purposes, use of the 11th Street Local bridge will be hampered considerably as well, since it's pretty much required that vehicles use 11th and M to get to or from that bridge.
The wording also telegraphs that there will be another closure still to come for the actual paving, which DDOT tells me has not yet been scheduled.
UPDATE: So, perhaps DDOT's use of the phrase "close the intersection" is a bit of overkill--in an exchange of e-mails trying to pin down the ability to access the 11th Street Local bridge, I was told that the milling operation will be staged such that traffic can be routed "around the work."
I'd still stay away if at all possible.