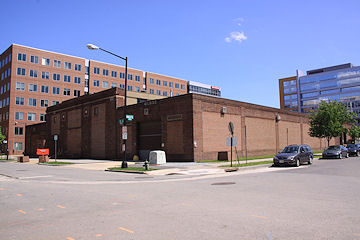 A
press release put out by Eleanor Holmes Norton
this morning says that the General Services Administration "has entered into formal negotiations with the District of Columbia government regarding property located at 49 L St. SE[.]"
The proposal apparently is to exchange both the L Street building and its land for various streetscape and construction improvements to be performed by the District along of Martin Luther King Avenue adjacent to St. Elizabeths. "In return, the District would own 49 L Street SE in fee simple with full rights and ownership over the property."
Quoting the quote from the EHN release: " 'This exchange takes GSA further with work necessary to complete the DHS headquarters,' Norton said. 'In the process of moving a DHS priority, GSA has found a way to dispose of the long-underutilized 49 L Street SE by exchanging it for construction services from the District.' "
As the release says, this is still in the negotiations stage, and even if the city does get the building there will then be I imagine a process about how to handle the site, but it's the first sign of movement since the flurry of activity about the building and the market idea back in 2013.