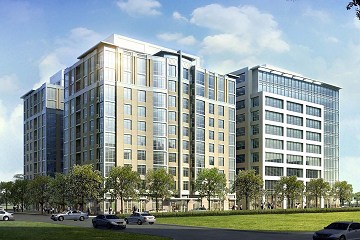 Earlier this month, the team developing a planned mixed-income apartment building that is
part of the Capper/Carollsburg
redevelopment was
one of 18 awardees named to share a $142 million pot
* helping to fund affordable housing units in the city.
The building, as yet unnamed and generally just referred to by some variation of the oh-so-attractive "Square 769N Residential" moniker, is planned for the northern part of the block bounded by 2nd Place, 3rd, L, and M, next door to the
recently discussed
250 M Street
office building. It will be 11 stories, and will include 34 units of public housing in its 171 rental units. There will also be about 4,100 square feet of ground-floor retail. (The above image shows the block as seen from Canal Park, with the apartment building at left and 250 M at right.)
This funding is not enough to get the building's construction jump-started, but a) it's better than no funding at all and b) it probably helps move the process toward full funding forward.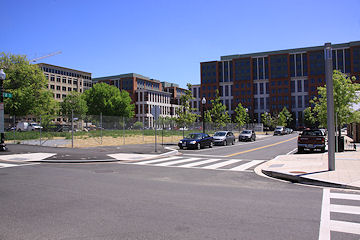 It has already spent plenty of time in Zoning Land, having received its
second-stage PUD approval back in 2009
followed by time extensions in
2011
and
2013
.
This is one of four** large mixed-income apartment buildings still to be built as part of Capper's redevelopment, with two more planned for the other blocks along the east side of Canal Park plus one on the old trash transfer site at New Jersey and K.
* For sticklers, this award is part of the 2014 Notice of Funding Availability (NOFA) awards from the Housing Production Trust Fund.
**
It could be five, since the Housing Authority is looking at splitting some units out from one planned mixed-income rental building (not this one!) into a second market-rate condo building. But there has been no public indication of movement one way or the other on that, and a planned Zoning hearing this fall has been pushed back to at least early 2015.