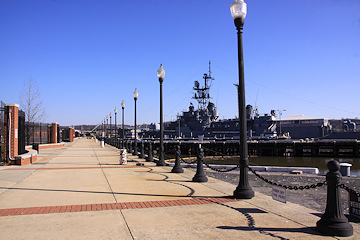 Today marks what was probably the biggest event in the neighborhood until the Nationals moved to South Capitol Street: It was 200 years ago, on Aug. 24, 1814, that US troops burned the Washington Navy Yard to prevent it from falling into the hands of the advancing British forces during the War of 1812.
There are a number of events at the Navy Yard today to commemorate the day as I mentioned earlier this week, including a new exhibit at the
National Museum of the United States Navy
called "Defeat to Victory: 1814-1815," along with family activities from 12 to 4 pm, music by the Chanteymen, and gun demonstrations at the still-docked Pride of Baltimore at 1:15 and 3:15 pm.
Note that on weekends, access to the Navy Yard by visitors is via the gate at 6th and M, SE, and a government photo ID is required to enter.
*
And the events of this day 200 years ago had a much longer-lasting effect on the neighborhood than people may realize. Quoting from the Naval Institute Blog:
"But what likely burned the backside of the Yard's commander, Commodore Thomas Tingey, even more was the discovery upon his return Aug. 26 that his house on the compound (known then as Quarters A, and known today as Tingey House, home of the Chief of Naval Operations) had been thoroughly looted and stripped of all hardware as well as doors and windows... not by the invading Brits, but rather by his D.C. neighbors outside the then short, wooden fence that marked and obviously inadequately protected the base's perimeter.
"Shortly thereafter Tingey ordered the fence around the Navy Yard to be fortified and increased in height to 10 feet."