Despite it being four weeks after the fact, JDLand's strict operating requirements still dictate that I document the new exit ramp to 11th Street SE from eastbound I-695.
With thanks to Mr. JDLand for chauffeuring, here's what it's like to venture along this new route, if you haven't done it. (And sure, I could have Vined it, or YouTubed it, or whatever, but what fun would that be?)

The view driving east on the Southeast Freeway (which is now I-695, if you haven't gotten the memo). If you always get off at or before the 6th Street SE exit, this may be an unfamiliar vista to you. The left lanes head toward the outbound
11th Street Bridges
, while the right two lanes are the new movement that didn't exist before this whole project got underway. (And is that hidden part of the 11th Street sign maybe an eventual pointer to Southeast Blvd.?)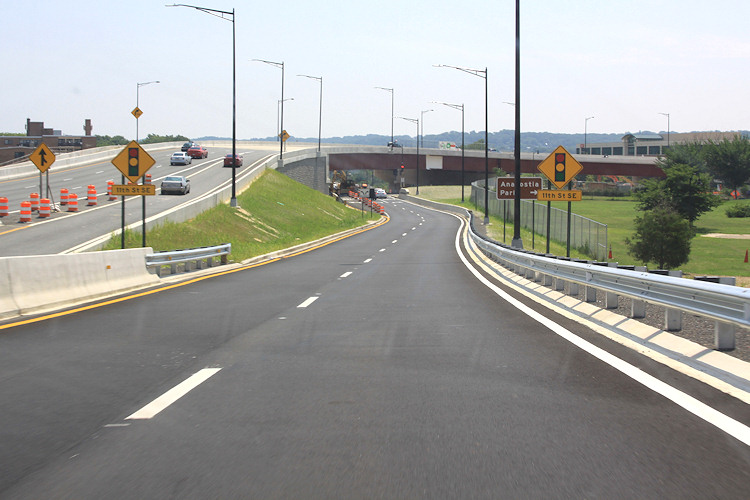 Behold, the new ramp! You also get to see the two new flyovers at left that have been built as part of this project, which has been underway since 2009. Sneaking up in between is the new on-ramp from 8th Street SE, which opened not long ago. At right is Virginia Avenue Park. Note also the sign pointing toward Anacostia Park--this would take you down 11th to the new local bridge and to the park that-a-way.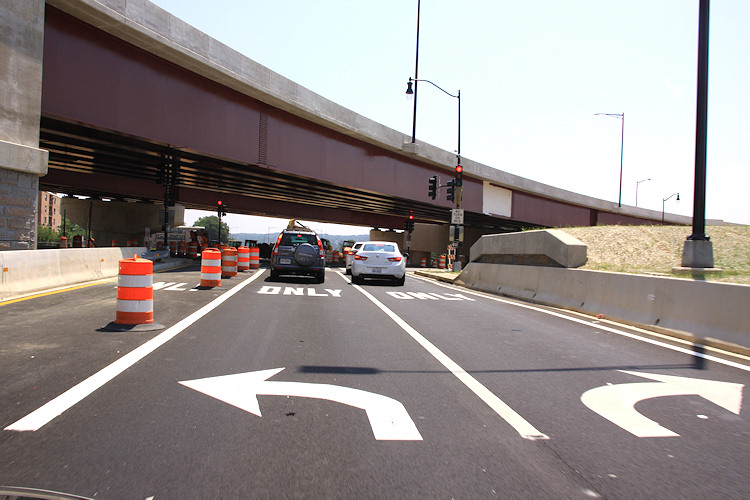 And now you come to the intersection at 11th. Turning left takes you north toward Pennsylvania Avenue and Lincoln Park, while turning right takes you to M Street, the Navy Yard, and the local bridge. Note the blocked-off third lane that is striped for left turns as well--I assume there will come a time when the middle lane will be for traffic continuing straight on
Southeast Blvd
.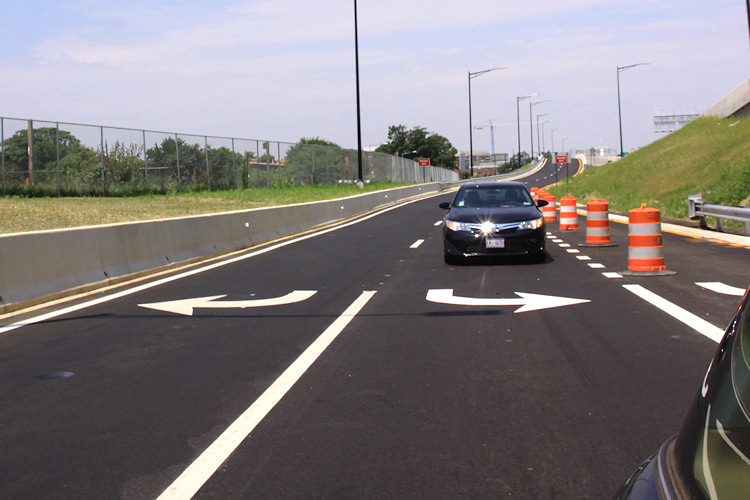 Wrapping up our little journey, here's a quick look backward at the road just traveled.
Need a reminder of what this spot used to look like? Remember the phrase "sunken freeway"? Here's a reminder, from street level and from above.
And, because I am a complete nutcase (which we already knew), here is a bunch of photos--strung together as a slideshow--that I took just as the 11th Street Bridges project was getting underway in early 2010, showing what it used to be like to drive across the Anacostia on that route. Apologies for the dirty windshield.
(I know, my archive just gets more and more alarming.)