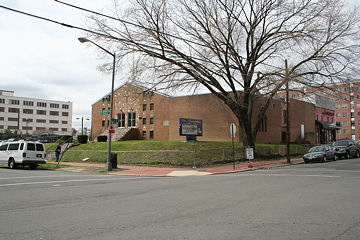 Today's batch of approved building permits includes a raze permit for St. Matthew's Church at 1105 New Jersey Ave.
The project's shoring/sheeting/excavation permit was also issued last week, so the bureaucratic wheels are definitely turning.
LATE-DAY UPDATE: Look for the razing of the church to begin in the next couple of weeks.
Also, after getting enough questions about it, I'll post confirmation that Ann's Beauty and Wigs is not part of the 1111 footprint, and so will continue to provide for the neighborhood's cosmetic needs.