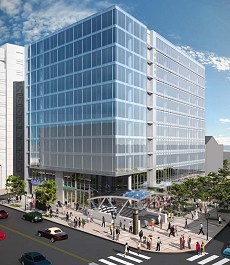 City Paper's Aaron Wiener has a piece out
looking at how office buildings are turning out to be a smaller part of the Capitol Riverfront development pie than had originally been envisioned.
Some numbers from the article: "As of last year, according to the Capitol Riverfront Business Improvement District, 50 percent of the eventual office development in the neighborhood was built out. By 2017, the BID projects, that figure will be 51 percent—an increase of just one percentage point over four years. In the same time period, the BID forecasts, residential development will have jumped from 24 percent to 47 percent, hotel development from 16 percent to 58 percent, and retail development from 22 percent to 50 percent."