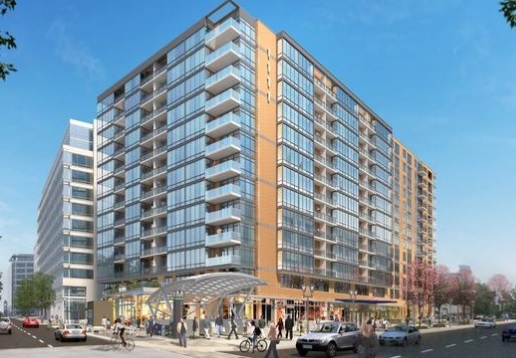 Readers have reported--and Donohoe has confirmed--that the company is beginning to put up scaffolding to erect "overhead protection" around the canopy on top of the Metro entrance at New Jersey and M. And within the next couple of weeks, demolition is expected to begin at
St. Matthew's Church
on the north end of the block, at L Street.
This is in preparation for what the company "hopes" is a start date later this summer for its 324-unit residential building at
1111 New Jersey
(I'm not quite ready to call it "The Gallery at Capitol Riverfront" just yet).
Note that the building will not be directly on top of the Metro station, as
55 M
is over at the west entrance. But the big concrete retaining walls and small hill of grass will go away, and the new building will be right at street level.
If 1111 does in fact get underway (my caution is well earned!), it will join the now-lengthy lineup of under-construction residential projects in the few years:
Twelve12
,
Park Chelsea
,
River Parc
,
Parcel N
, the
Lofts at Capitol Quarter
, and
800 New Jersey
(which should be getting started Any Minute Now, and did in fact get its excavation permit last week). Including 1111 NJ and 800 NJ, that makes about 2,100 new units in the active pipeline. (And maybe 320 more if Grosvenor gets the residential and hotel part of
Ballpark Square
off the ground this year like it seems to be planning.)
That's a lot of new neighbors....