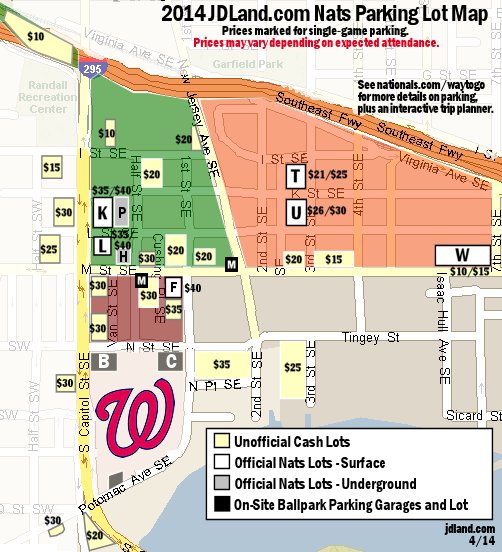 While normal people were streaming toward the ballpark on this bright sunny spring Sunday, I was
wandering the periphery
, taking notes and chatting up parking lot attendants, in order to get my
Nats Park Parking Lot Map
scrubbed and fresh for the 2014 season. (Three games late, I know.)
The prices are what were being charged today, though for some of the lots it might be that lower prices will be charged for games with smaller crowds. So use the prices on the map as a guide, not 100 percent gospel.
Since the 2013 season pretty much went down the rabbit hole for me, I can't say for certain what's truly new and changed among the offerings, but here at least is What's New to Me:
* There is a $10 lot in the McDonald's parking lot at South Capitol and I, SE.
* The surface lots on the former Monument Realty properties at South Capitol and N and Half and M are back, charging $30.
* The little parking lot that popped up on South Capitol south of N next to the Camden apartment building was charging $30 this weekend, but it sounds like their rates will be pretty fluid depending on demand.