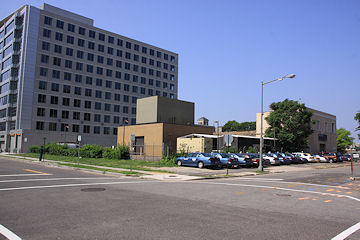 WBJ reports today
that three developers have submitted proposals to WMATA for projects on what's known as the Navy Yard Chiller Plant site, on the
southwest corner of Half and L, SE
.
Sayeth Michael Neibauer: "Akridge wants to build office there. Trammell Crow has bid to construct a residential building, as has a joint venture of MRP Realty and CAS Riegler. All three buildings feature ground floor retail."
Apparently the next step will be public forums "to gauge community interest" in the proposals, and WBJ says that Metro is looking to make selections as soon as mid-summer.
This is not the first time that WMATA has looked to redevelop this 14,000-sq-ft parcel, but a two-year negotiation with Donatelli
broke off in 2010
when the developer pulled the plug on a planned 84-unit condo building, saying that the neighborhood was "getting saturated" with residential and that "it didn't look like condominiums were a viable alternative."
Most likely any developer chosen would buy the 7,700-sq-ft lot with the two-story building next door (which has a big For Sale sign draped on its western side) to expand the site. (That
building has quite a history
, for those who weren't around for my post on it back in 2010.)