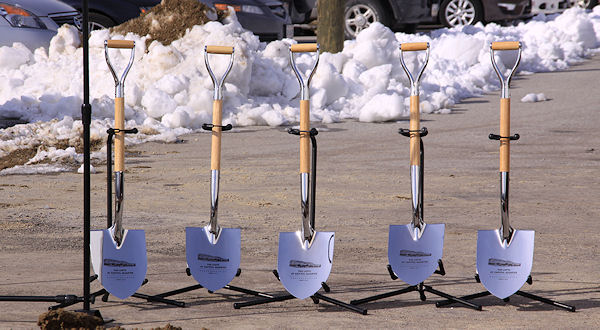 A clearly happy and relieved group of city officials, developers, and residents gathered this morning on the parking lot at 7th and L, SE, to ceremonially break ground on the
Lofts at Capitol Quarter
, the 195-unit mixed-income apartment building that marks the latest phase in the redevelopment of the
Capper/Carrollsburg
public housing project.
Mayor Vince Gray, DC Housing Authority director Adrianne Todman, Ward 6 council member Tommy Wells, and other speakers all discussed the importance of making sure that residents are not priced out of the District, focusing on the 39 units of public housing that will be included in this project. When this building is completed, DCHA will have replaced 61 percent of Capper's original 707 units of public housing.
A lot of cooks were in the Lofts's $42 million financial kitchen, since DCHA did not use any of the Capper Hope VI funds to get the project underway. Instead, DCHA is acting as a first-time co-developer alongside Urban Atlantic and Forest City Washington, apparently crafting a "unique and complex legal and financial structure" that involves low income tax credits, DC Housing Finance Agency debt purchased by Citi Community Capital, and a short-term loan made by Industrial Bank.
And because I'm a sucker for photos of dirt being flung into the air, here's a
gallery of images from the event
, which included not only the usual lineup of officials but also former and current Capper residents.
As for when "real" groundbreaking will begin, let's just say Any Minute Now. (And Nats fans and commuters should be prepared that Lot W will be cut pretty much in half by this development.)