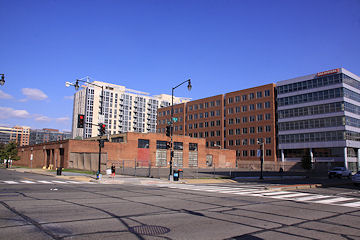 According
to the Washington Business Journal
, the empty lot on the northeast corner of Half and M is now slated to become a 195-room
Homewood Suites Hotel
, with a deal having been reached between Hilton and the development group that
bought the lot
last year.
Back in the pre-ballpark pre-land rush days, a Sunoco station sat on this lot, known as 50 M Street, until 2006, and then the site was bought by Monument Realty in 2007.
The WBJ article says construction could begin on the 11-story building, one block north of Nationals Park, late this year or in 2015, with an opening in 2016. The hotel will have a mix of studio, one- and two-bedroom suites, and about 5,000 square feet of ground-floor retail, which will come in handy with its location directly across the street from the west entrance to the Navy Yard-Ballpark Metro station.
This hotel would join the
Courtyard by Marriott
at New Jersey and L and the just-getting-started
Hampton Inn
at 1st and N that is expected to open next year. There is also expected to be another hotel as part of the Ballpark Square development just a few feet north of the Hampton Inn on 1st Street south of M.
Note that this deal does not affect the red brick warehouse just to the north of the empty 50 M lot--that building is owned by the feds and is being salivated over by residents who dream of creating the
Half Street Market
there.