Sliding from Before to After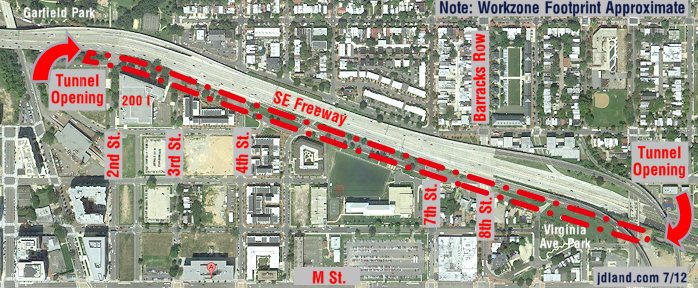 Both
the Post
and
City Paper
have reports on Thursday's meeting with Mayor Vince Gray where residents had the chance to air their grievances about the plans for the renovation and expansion of the
Virginia Avenue Tunnel
between 2nd and 12th streets, SE.
City Paper's article
opened thusly: "Navy Yard residents still unequivocally don't want the the city to give a complex Virginia Avenue Tunnel construction project the go-ahead, and last night, hundreds of neighbors came out to let Mayor Vince Gray know just how horrible they think the project is." CP wrote that Mayor Gray "facilitated the meeting and took what he referred to as 'copious notes' throughout. He didn't say much about the project itself, only promising that the city would never sign on to a project that would endanger lives: 'There's no way we would be involved in a project like that.' "
CP also has this: "Skip Elliott, vice president of public safety, health and environment at CSX, said there would be no 'unit trains' with crude oil going through the tunnel. When the meeting attendees screamed he was lying, he clarified that while there would be no unit trains—or a group of trains that typically carry a single commodity—there would be some rail cars that would carry crude."
The Post notes
that "[s]ome residents say they fear the estimated three to six years of construction will lower home values and slow growth in the neighborhood." It quotes resident Natalie Skidmore: "With an open trench, we have concerns about how people are going to get around. We are going to lose parking spots, trees and access." And the article closes with a quote from James McPhillips, one of the leaders of the
DCSafeRail
opposition group: "We really thought the neighborhood was up and coming. It had a beautiful, inviting and diverse community[.] This project has the possibility of destroying that."
In the wake of the meeting, ANC 6D07 commissioner David Garber told his mailing list that "I believe this issue is finally on the mayor's radar -- but we need to KEEP IT THERE," suggesting that "[w]hile a hashtag won't save the world (yet) -- please consider tweeting to the mayor and including the hashtag #MayorNoBuild."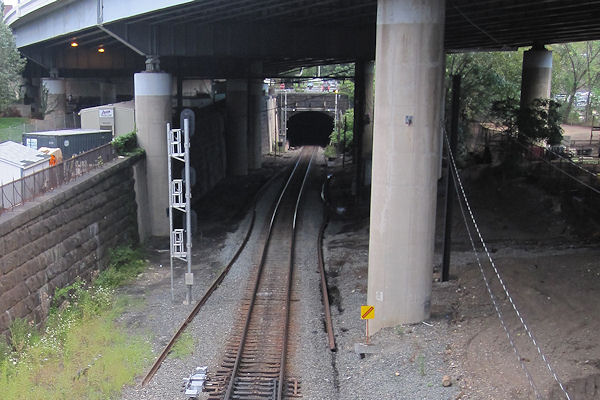 However, the commissioner for another ANC single member district that will be affected by the project came out of the meeting with a different point of view, and has posted her concerns with the concerns of Virginia Avenue residents.
KIrsten Oldenburg, commissioner of ANC 6B04--which mainly covers Barracks Row but also includes lower 8th Street and Virginia Avenue from 7th Street to 11th Street--
posted today a detailed look
at the issues that the opposition groups are so vociferously arguing about, saying that "[t]his is not to say that those stridently opposed to the project don't have a right to conduct a politicized campaign. [...] But, I don't have to agree with the way they are using and perpetuating misinformation about what we know about the project."
OIdenburg addresses the proposed alternatives, saying that it is "Not True" that all proposed build alternatives involve running trains through open trenches, since one of the alternatives has trains running through the existing closed tunnel during construction. She notes that the draft EIS says "the maximum duration is 3.5 years for alternatives with open trench train operations and 5.5 years for the closed tunnel version," meaning that there may be a tradeoff between open-vs.-closed trench and shorter-vs.-longer duration.
She also looks at the hazardous materials and rail accidents arguments, and notes that the issue of CSX's HazMat transportation has been around since before the tunnel became a cause. After pointing out that trucks carry "unknown quantities of hazardous materials along I-695 (parallel to Virginia Avenue)," Oldenburg says that "[t]he alarms being raised on hazardous materials are diverting attention away from other more probable problems an open trench might cause."
On the issue of street closures, she looks at the disruptions as they have been outlined from the beginning of the EIS project: "But, aside from 2nd Street, all north/south crossings of Virginia Avenue will remain open during construction. Will these streets be closed occasionally and for short periods of time? Yes. Will the I-695 exit ramp at 6th Street and on ramp at 8th Street be closed for the duration? No. Will each have to be closed for a short time while decking is installed at these intersections with Virginia Avenue? Yes. Does the DEIS show special lanes to be set up to provide continuing access for residences and businesses in close proximity to the construction area? Yes."
The issue of community benefits in the wake of such a long construction project is one she feels needs more discussion, noting that 6B and others have already been advocating for green space with a pedestrian/bike patch from 3rd Street to 11th Street, along with a major redesign of Virginia Avenue Park. "But, is a linear park that will revitalize a lifeless space and serve all residents both north and south of the Freeway enough? Is it possible to equalize burdens and benefits? ... What more could/should we ask for?"
She closes with reference to the comments submitted to the DEIS, saying that the issues raised are "excellent contributions toward making the FEIS a major improvement over the DEIS," but that, "[I]n the end, the FEIS may improve our comfort level about this project but it will never satisfy everyone."
---
JD
says: (
1/20/14 10:39 AM
)
It's also a good time for me to remind folks that I don't allow multiple comment accounts for the same user, so don't get all sneaky trying to create a sock puppet. You may also find your original account suspended too.
---
---
Andrew in DC
says: (
1/21/14 2:57 AM
)
Oldenburg's rant is so biased and misinformed as to border on propaganda.
In speaking of the Rosedale derailment, she mentions 24 persons were evacuated. She conveniently omits that those 24 persons were evacuated from a 20 city-block RADIUS of the site. Such a radius, overlaid with any point along the VAT, would stretch past H St. NE and would require the evacuation of hundreds of thousands of residents and transient workers (simultaneously - so imagine rush hour times about a thousand).
In speaking of hazardous materials, she recognizes that more travels (nationally, per mile) by truck than by rail. She ignores that DC's 695 has relatively low truck traffic thanks to the BW parkway - so most of our exposure is by rail. In addition, that exposure is orders-of-magnitude greater because of the quantities hauled by a freight train vs. a single truck. When analyzing risk, analyzing the possibility of how often something goes catastrophically wrong is only half the answer - the other half is being able to assess the impact if it does.
In speaking of the timeline, she omits the all important caveat that these are estimates and ignores the fact that once CSX has its temporary track it has less than zero incentive to actually complete the project. If Baltimore's ports aren't ready, if the modeled Panama Canal traffic doesn't pan out or, frankly, if CSX just doesn't feel like completing the project, does anyone really think that CSX won't mind paying some nominal fee to DDOT vs. shelling out tens millions to finish the Big Dig? For a project they've already delayed over a decade in starting? Did we legalize recreational marijuana in DC and I wasn't looking?
Finally her framing of the DCSafeRail organization is simply name-calling. We all know Ms. Oldenburg has supported this project from the outset with no questions asked, with neither regard for permanently gifting DC land to CSX nor concern for people who aren't her constituents (or even those who are). But for her to arrogantly and simplistically cast the opposition to the project as "NIMBY-ism" ought to be beneath her. But she, too, has a right to conduct a 'politicized' campaign.
.. I'll stop there because we know how JD hates when people get on their soap box on her page... :)
---
---
InformedConsent
says: (
1/21/14 4:46 PM
)
JD- I've valued your blog for the last several years but I must say I was surprised to see you so prominently and thoroughly feature one person's views on such a crucial issue for the neighborhood. The DC Safe Rail people have done yeoman's work in research but you didn't give them 6 or 7 paragraphs before turning toward THEIR opposition.
Do the critics Oldenburg complains are "outside of the formal study" (NEPA) process not have the right to do research, consult experts and agencies? Shall the community not organize itself to be heard and even to be answered? For years the community has quietly and patiently waited for answers. When FHWA's Michael Hicks told neighbors that the 6th street exit would be "closed for the duration" - his words and no one else's - and not he nor CSX or DDOT nor even you, for that matter - noted his grievous error for 3 days (leading us all to believe there had been a huge, unannounced shift from the DEIS), why should this community sit back and blindly trust this process or the people leading it? This isn't some fringe shamefully "whipping" people up, as Oldenburg put it; this is a community banding together to get answers and accountability, and unfortunately, Oldenburg is outside of her own community. (Yes, opposition extends well north of the freeway!)
Oldenburg's note is a calculated attempt to lull people who aren't so immediately impacted by this project into believing that nothing can go wrong, CSX and regulators will all do just what they should and in no time at all. We should all just look away for the duration. That, or, if you live in the Arthur Capper Center, just close your windows.
---
---
Gamble Rogers
says: (
1/22/14 10:29 PM
)
C'mon, folks, let's keep this civil.
Instead of focusing on a single blog post from a single ANC commissioner -- in which a single commissioner is entitled to her opinion, just other ANC commissioners are entitled to share theirs -- please read the letter ANC6B submitted to the Federal Highway Administration and the District's Department of Transportation in September. This letter lays out ANC6B's concerns with the draft EIS in a thoughtful, serious way:
link
In the interest of full disclosure, my family lives along "Lower Eighth Street" and would be impacted since any tunnel construction would cut a swath through Virginia Avenue Park. Kirsten represents us on ANC6B and we've found her to be fair, serious, and judicious. She reached out to us privately several times to gauge our opinions on the draft EIS. In our view, the demolition and construction of the Eleventh Street Bridge has caused more disruption than the Virginia Avenue Tunnel likely would. And we've tried for years to clean heroin users and prostitutes from using Virginia Avenue Park as their personal playground. The bridge construction -- combined with help and pressure from the BID, our ANC and Ward reps, and a (reluctant) MPD -- helped run all but the hardiest users off. Know what would eventually make the park and Lower Eighth friendlier for pedestrians, gardeners, dog lovers, and kids? A period of construction followed by a complete renovation of Virginia Avenue and Virginia Avenue Park. That could be one tangible, positive result of serious mitigation and negotiations with city leaders and CSX.
Think about it.
---
Add a Comment:
Comments are closed for this post.
JDLand Comments RSS Feed

Records added or updated recently displayed here; click the "archive" links to see additional detail and older records. All data from DC Government databases and RSS feeds. JDLand takes no responsibility for errors, omissions, etc. (read CapStat disclaimer). Data is retrieved daily.


1200 B/O VAN ST SE
THEFT
Theft 2nd Degree (theft From Building)
02/26/20
1500 B/O SOUTH CAPITOL ST SE
THEFT
Theft 2nd Degree (theft From Building)
02/24/20
1000 B/O 1ST ST SE
THEFT
Theft 2nd Degree - Felony (theft From Building)
02/24/20
1200 B/O HALF ST SE
THEFT
Theft 2nd Degree (all Other Larceny)
02/24/20
1200 B/O VAN ST SE
THEFT
Theft 2nd Degree (all Other Larceny)
02/23/20
900 B/O NEW JERSEY AVE SE
THEFT
Theft 2nd Degree - Felony (all Other Larceny)
02/22/20
900 B/O 11TH ST SE
THEFT FROM AUTO
Theft (theft From Motor Vehicle)
02/19/20
900 B/O M ST SE
BURGLARY
Burglary Two
02/19/20
1200 B/O HALF ST SE
ROBBERY
02/18/20
UNIT B/O M ST SE
THEFT
Theft 2nd Degree (all Other Larceny)
02/15/20
400 B/O M ST SE
ASSAULT WITH A DANGEROUS WEAPON
02/08/20
300 B/O TINGEY ST SE
THEFT
Theft 2nd Degree (all Other Larceny)
02/02/20
700 B/O L ST SE
THEFT
Theft 2nd Degree (all Other Larceny)
02/01/20
600 B/O VIRGINIA AVE SE
ASSAULT WITH A DANGEROUS WEAPON
01/29/20




| | |
| --- | --- |
| Recent Issued Building Permits | Archive |

909 4TH ST SE

02/12/20

MEREDITH FASCETT / null

E2004655 / SUPPLEMENTAL

1300 4TH ST SE APT 214

02/03/20

null / NA NA NA

EHOP20983190 / HOME OCCUPATION

1021 5TH ST SE

02/13/20

KEVIN WILLIAMS / KEVIN WILLIAMS; KEVIN WILLIAMS

B2005053 / CONSTRUCTION

Apply for building permit to have final closing inspection for permit #B1602481 & B1602513 per inspector inspection report since these permits has expired.

150 I ST SE

02/14/20

SQUARE 737 LLC / JASON D DORRIS

AH2000818 / CONSTRUCTION

Construction of a new 13 story apartment building with three below grade parking levels, 1st floor retail, and amenity areas; 375 units and 181 parking spaces. To include mechanical, electrical, plumbing, elevators and structural work.

250 M ST SE

02/14/20

SQUARE 769 LLC / null

P2003901 / SUPPLEMENTAL

1275 NEW JERSEY AVE SE 20003

02/14/20

BROOKFIELD PROPOERTIES / TIM GOOD

AH2000849 / CONSTRUCTION

After hours to conduct work on 1275 New Jersey Ave SE on the upcoming holiday, Presidents Day, February 17, 2020. Operations would include below grade concrete and waterproofing activities with access limited to N Street. This permit would not include extended work hours beyond the normal 7am to 7pm period.

1111 NEW JERSEY AVE SE

02/25/20

GALLERY CAPITOL RIVERFRONT PROPERTY LLC / WILL ROWELL; NA NA

B2000625 / CONSTRUCTION

Scope of Work; Plumbing additional bathroom and new fixtures-running lines under slab & within a 15' radius. Electrical installation of approx. 10 outlets / 5 switches / 200 amp services / sub panel & new lighting / wiring. HVAC relocating / dropping 2 new heat fans & installation of 2 ductless split systems. Sprinkler System Turn down of all sprinkler heads, re-balance and restart / re-charge

1275 NEW JERSEY AVE SE

02/07/20

MILLER AND LONG / WILLIAM MOORE

AH2000699 / CONSTRUCTION

Afterhours to put up towercrane with mobile crane saturday 2 / 8 / 2020 and 2 / 9 / 2020 from 5am to 1159pm

1299 NEW JERSEY AVE SE

02/18/20

FOREST CITY SEFC LLC / STRAUCHON; SEE BELOW

BCIV1800153 / CONSTRUCTION

Phase 1A BCIV Permit Description - BCIV 1800153 - The subject BCIV permit is for the Phase IA development of Quander St SE, N Pl SE, and 1-1 / 2 St SE within the overall Forest City, Yards West (FCYW) development area which emphasizes: pedestrian-focused public realm, optimized utility corridor, fully integrated SWM design, and complete street and vision zero design. The FCYW Phase IA is comprised...

1322 PATTERSON AVE SE

02/13/20

JOINT BASE ANACOSTIA BOLLING - UNITED STATES NAVAL OBSERVATORY SI / TONYA HARRIS; TONYA HARRIS; TBD

BCIV2000046 / CONSTRUCTION

***FEDERAL PROPERTY*** PROJECT WILL CONSIST OF DREDGING THE EXISTING RETENTION POND AND INSPECTING AND CLEANING THE OUTLET CONTROL STRUCTURE (S1) LOCATED ON THE UNITED STATES NAVAL OBSERVATORY TO REMOVE SEDIMENT ACCUMULATION. CONTRACTOR SHALL AVOID THE CLEARING OF VEGETATION ON POND EMBANKMENTS AND SURROUNDING AREAS SO AS TO KEEP RESTORATION AND REPLANTING TO A MINIMUM.

71 POTOMAC AVE SE

02/13/20

MRP REALTY / JAMES VANEGAS

AH2000681 / CONSTRUCTION

Perform interior and exterior construction activities. New construction 14-story new residential multi-family building.

02/19/20

RIVERFRONT HOLDINGS II, LLC / JUSTIN BISHOP; JUSTIN BISHOP

SP1900054 / CONSTRUCTION

Construct a 680 sqft concrete swimming pool inside an existing waterproofed structural box on the 14th floor. All MEP, decking and fencing work by other trades under separate permits.

227 TINGEY ST SE

02/12/20

GONE YARD HOTEL OWNER LLC / BOB BIROONAK; BOB BIROONAK

SG2000048 / CONSTRUCTION

one double face illuminated blade sign

AH = After Hours; B = Alteration & Repair; D = Demolition; E = Electrical; FB = Boiler; M = Mechanical; P = Plumbing and Gas; PC = Post Card; R = Raze; SG = Sign; TL = Tenant Layout; TN = Tent; RW = Retaining Wall;



No commercial transaction records added or modified in the past two weeks.