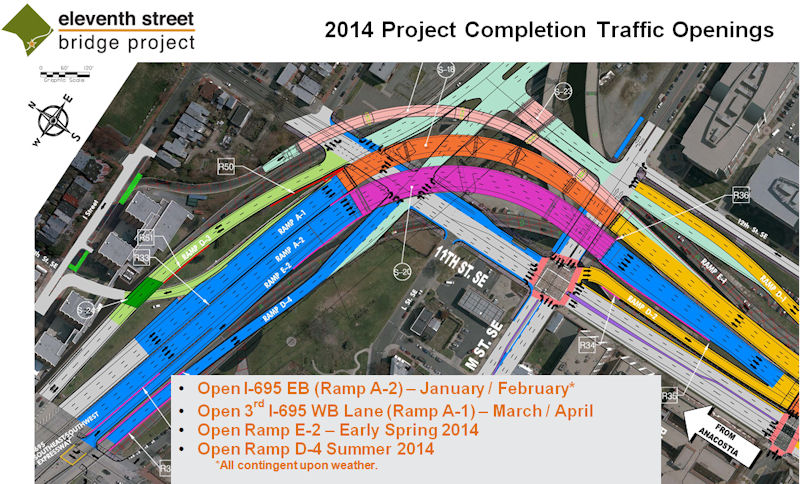 I've had some e-mails of late from readers eyeing the progress on the new outbound flyover from the eastbound Southeast Freeway toward the 11th Street freeway bridge (aka I-695). The flyover appears to be pretty close to opening, but as of now there's no official date-in-stone from the project folks.
However, they were nice enough to pass along
this graphic
showing the estimated dates that four of the ramps now under construction will open. And, because I know some of you just can't bring yourselves to click, I'll summarize:
* The new eastbound/outbound flyover from the freeway is expected to open sometime in the next six weeks or so.
* A third lane westbound/inbound is scheduled to open in the March/April timeframe.
* The new/replacement ramp from 8th Street onto the eastbound/outbound freeway has an "early spring" anticipated opening date.
* The ramp that will offer a new exit from the eastbound freeway directly onto to 11th Street just north of L is expected to open this summer.
And, while I invite you to check out my
11th Street Bridges project page
for the background on this on-going project, I admit that I haven't been over there to take pictures since, ahem, October (it's cold! I'm busy! I'm tired! I'm lazy!). But now I will probably be guilted into it.