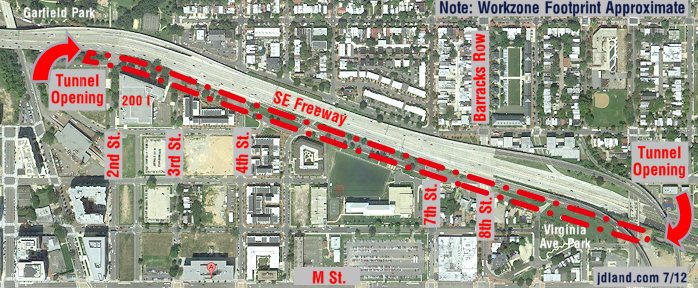 Resident groups alarmed at CSX's plans to renovate and expand the
Virginia Avenue Tunnel
have secured a public meeting with Mayor Vince Gray to air their concerns about the projects and its impacts, which range from the use of the tunnel for hazardous materials transport to the presence of asbestos to increased vibrations on surrounding structures to the "potential for stalled neighborhood development" and traffic congestion.
It is scheduled for Thursday, Jan. 16, at 6:30 pm at 200 I St. SE (the old Post Plant).
For more information on the meeting and on the residents' battle, see
DCSafeRail.org
. For more information on the tunnel project, which is currently awaiting the any-minute-now release of the Environmental Impact Statement, see
my project page
or CSX's official site at
VirginiaAvenueTunnel.com
.