After not having a new high-rise residential project under construction in the neighborhood since spring 2009, it's sort of amazing to realize there are now three such buildings up out of the ground, with more than 900 new rental units in the pipeline for delivery within the next year to eighteen months. (And there could be another 650 units added to tally if both the
Yards/Parcel N
and
800 New Jersey/Whole Foods
projects get going as expected in the coming months.)
The farthest along is the
Twelve12
building at 4th and M, SE, at the Yards, which has its two residential towers topped out and its Harris Teeter space glassed in. Plus, it is also now seeing the
glass being hung
on the Vida Fitness/retail area at 4th and Tingey:
It will have 218 units, and the first move-ins are expected to happen by mid-year. This project is also where Sweetgreen and TaKorean will be located.
Meanwhile, the Toll Brothers building dubbed
River Parc
is racing right along, with five-plus of its 13 stories completed, helping to make the southwest corner of 1st and K look a teensy bit different than it did seven years ago: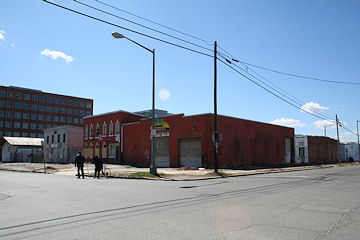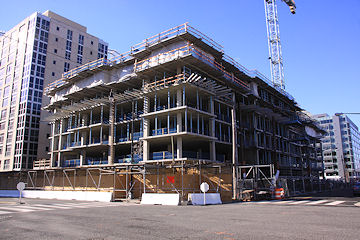 This building will have 277 units, and is expected to begin leasing toward the end of 2014.
And up near the freeway, at New Jersey and I, the
Park Chelsea
is moving along, though the vertical progress of this 433-unit building is a bit slower than its smaller brethren. But as of now neighborhood eyes are probably more fixed on the completed paving of the new block of I Street between 2nd and New Jersey, though when the street will actually open to the public is not being trumpeted. (Spring 2014? Late 2014? We shall see!)
I think that, of the three, the Park Chelsea will have the biggest impact on the neighborhood skyline, both from on the ground (as you can now start to see in the various vantage points in the project's
expanded before-and-after archive
) as well as when looking into Near Southeast from the freeway. (And then it won't be too long until the Chelsea's sibling 800 New Jersey sneaks in just to its north and tweaks the views even further.). The downside is that a lot of views of the Capitol dome from Canal Park and Capitol Hill Tower are going to be lost to progress....
For more information/renderings for each project, and for more photos showing how these construction sites looked before work got underway, check out the
Twelve12
,
River Parc
, and
Park Chelsea
project pages. And join in with me in looking forward to the days starting to get longer, so that I can stop having to deal with the rotten winter sun angle and shadows.