I was otherwise occupied on Sept. 7, the day of the big celebration on the now-completed
11th Street Local Bridge
, but I finally wandered down to that neck of the woods a few days ago with my camera to capture the current state of affairs. And one might say that the landscape at
11th and O
has changed a bit thanks to this project: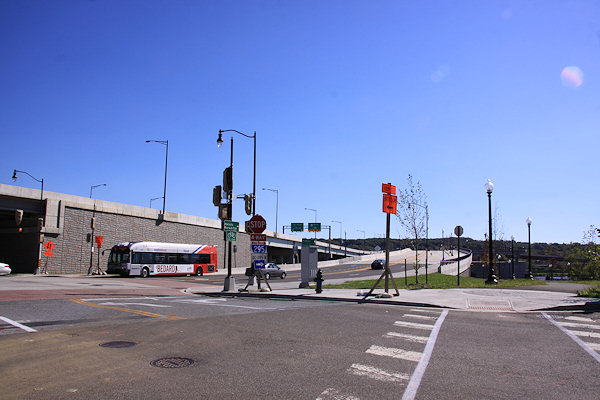 But there's more than just the newly wide open spaces at 11th and O. The girders for the new flyover that will carry traffic from the Southeast Freeway to the outbound I-695 bridge are all now in place; couple that with the demolition earlier this year of the old outbound flyover, and you have a very different vista at
11th and L
than what's been there up to now: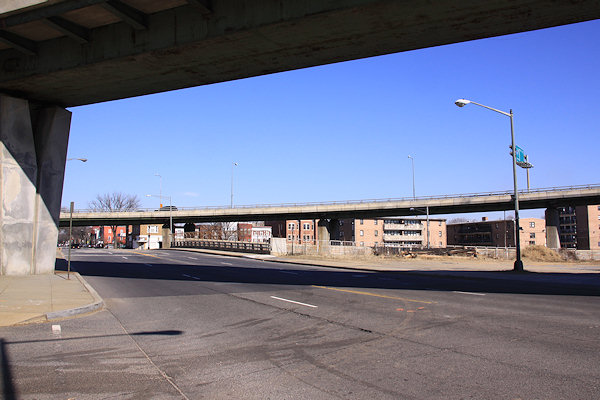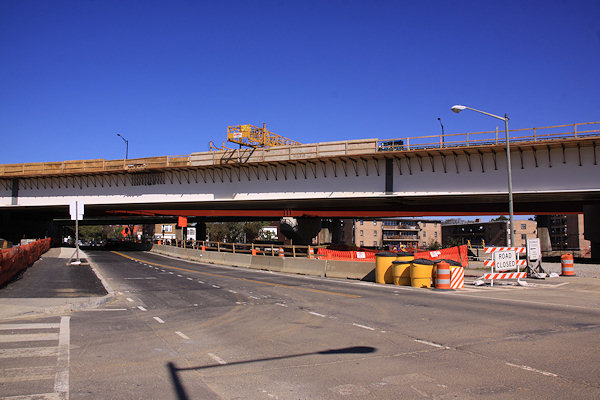 (The low height of the flyovers above 11th does make that little stretch a bit claustrophobic, though, especially on foot.)
You also now have two-way traffic on 11th between O and M, so that vehicles coming across the local bridge from Anacostia can drive straight north on 11th.
And the dirt-fill-in work for
Southeast Blvd.
has progressed enough that the west side of 11th at the freeway no longer feels like an overpass, just the regular road.
Plus there's also work at 8th Street and Virginia Avenue to create a new on-ramp and also fashion the new exit to Southeast Blvd./11th Street.
If you don't feel like clicking on each of these photos, just head to my
11th Street Bridges
and
Southeast Blvd.
pages to see them alongside a few other new shots. You may also want to dig into my photo archive to check out the before-and-afters at
11th and the freeway
,
11th and L
,
11th and M
,
11th and N
, and
11th and O
. Though the photos don't quite seem to do the changes justice, especially if you're someone who has walked those blocks of 11th many times over the past few years.