When I put out word of my "semi-retirement" since
last August
, I listed a lot of reasons for my wanting/needing to pull back from the blogging grind, but I only cryptically referred to what was the biggest driver of my decision: my mother's illness.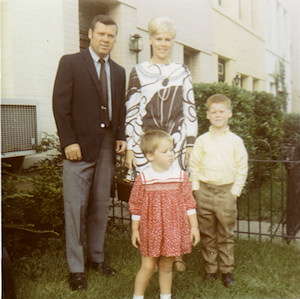 In early 2012, after a few months of noticing her having problems remembering words, she was diagnosed with a form of dementia (
FTD
) that has left her memory intact but very quickly stole her speech completely and caused other cognitive issues. This was devastating enough, but within a few months we also found her to be suffering from a form of
ALS
(Lou Gehrig's Disease) that targeted her throat and mouth muscles, swiftly affecting her ability to chew and swallow food.
This has been such a body blow, not only to see this woman so full of life and energy be stolen away from us week by week, but to have known from the moment of diagnosis that there was absolutely not a thing we could do about it. It's like the entire family has been riding in a car with no hands on the steering wheel.
Because it's a rare combination, and because every patient with these diseases progresses differently, we've been very much on our own in terms of trying to care for her, with my
father
bearing the brunt of the exhausting day-to-day work while I turned my laser-like research abilities away from hyperlocal real estate and toward trying to come up with the best strategies for keeping Mom comfortable. All while nursing a desperately broken heart, alongside the shock that everyone who knows her has felt--this was not the anticipated ending of the story of this cowgirl from Wyoming who came to the big city at age 19 in 1959. (She was supposed to drop dead on a golf course at age 95, probably after a hole-in-one. And she was certainly supposed to outlive her cranky and lazy daughter.)
We are now seeing a crossroads ahead of us, as they say. So it's time for me to make sure that my focus is where it needs to be, and that I give myself permission to stop trying to keep up with other parts of my life that I just don't have the strength or interest to deal with right now. There's too much going on in the neighborhood now for me to just keep going with a hit-or-miss approach that only serves to make me feel like I'm doing less than my best.
I'll still be around on Twitter at my
@jacdupree
account, because I will always need an outlet for generalized snark and carping. But I really am ending the Near Southeast news service until the storm clouds clear, whenever that may be.
I'm not 100 percent sure that I'll come back to the same approach of JDLand's past 10 years, but I'll always have my camera in hand.
Thanks to all for your patience over the past few months, and for your readership for all these years. See you around....!