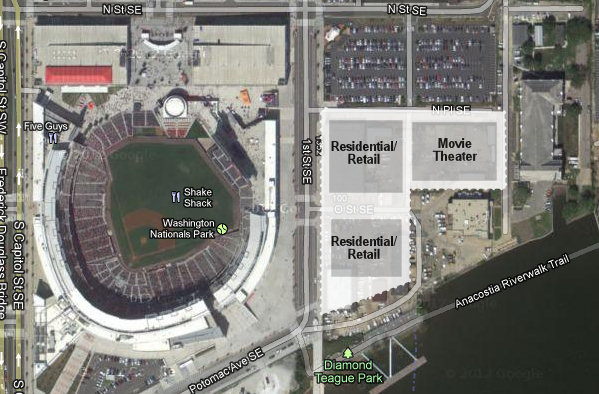 On Thursday, the news broke that the DC Council's economic development committee voted to shift $8 million of the city's 2014 budget from the planned relocation of some of the
DC Water facilities
at 125 O St., SE, to three projects that happen to be in the ward of the committee's chair, Muriel Bowser (who also just happens to be running for mayor).
This relocation is a step on the path to Forest City's
plans for a mixed-use development
including a
movie theater
on that site. The project is currently going through the zoning process, and is expected to have a hearing within the next few months.
Let's hand the narrative over to the
Washington Business Journal
: "Bowser described the D.C. WASA project, in the report, as a 'poor use of capital funding,' given that a replacement WASA site has not been identified. Later Thursday, the councilwoman said that she supports the relocation project and that she left enough money in the fund -- $1 million in 2014 and $9 million in 2015 -- to continue community outreach and relocation work.
"The WASA project, she said, will require extensive environmental remediation and can't possibly be done next year.
"'They can't use it,'" she said of the $9 million set aside in 2014."
As for how the mayor's office feels about the move? "'Stopping the Yards project -- who in their right mind thinks that's a good idea?' responded Pedro Ribeiro, Gray's spokesman."
This is not the final word in the budgeting process--the full council still needs to vote on the budget, and there could still be some maneuvers to come.