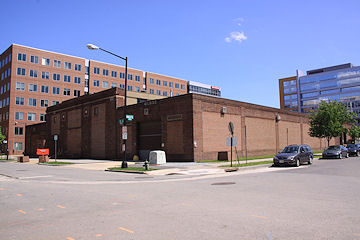 I wasn't able to be at Thursday's hearing on the fate of the federally owned warehouse at Half and L Streets, but I can cobble together an update thanks to the folks who were there:
"'Given the high real estate value and rate of growth in the surrounding Capitol Riverfront neighborhood, the 49 L Street property presents us with many potential opportunities to find a better use for or to dispose of a vacant property from the federal real estate inventory and provide considerable savings to taxpayers,' said Michael Gelber, acting deputy commissioner of the GSA's Public Buildings Service."
"The will is certainly there. But what of the way?
"GSA has not disclosed how much it believes the L Street warehouse is worth but Gelber said putting it up for auction, as the agency did with the West Heating Plant, would likely fetch the highest price. Adding a requirement that a market be part of the redevelopment wasn't likely to help the sales price — quite the opposite. 'The more conditions you put on a sale the more that you affect valuation,' he said.
"A sizable contingent (for a Thursday morning) came out to the meeting in support of the Half Street concept, and Councilmember Tommy Wells and ANC 6D Commissioner Ed Kaminski testified in support of the project. Kaminski brought up a potential revenue stream that could help fund the market and culinary incubators on the ground floor: a boutique hotel on the upper floors could send a stream of cash to the GSA. Generally, Kaminski felt that the air rights over the warehouse could be utilized in a profitable manner.
The representatives seemed supportive of the local officials, and were open to the prospect of putting in motion a process that would lead to selling the building to the city. However, the question remains: can DC afford it?"