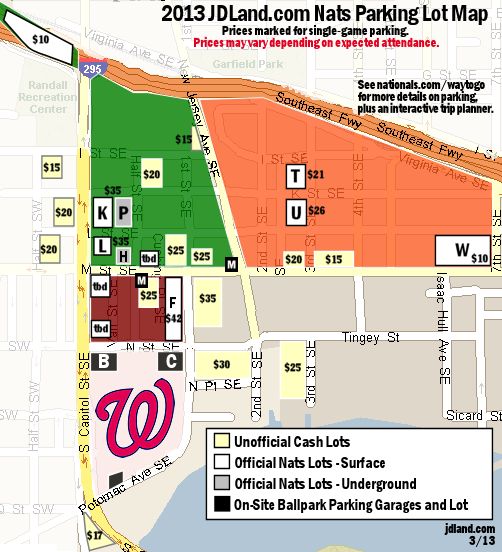 It must be a sign of a revved up fan base that I'm already starting to receive queries about the lineup of available parking lots around
Nationals Park
, with over a month to go before Opening Day.
There's still a lot in flux, but the big news is that three of the lots that have long been in the
official Nats inventory
are not there for 2013. But users of the lots formerly known as
J, N, and M
should know that I've talked with Monument Realty and have confirmed that these lots will be cash lots this season. (If you're not in the know on the lot lettering, these are the lots at South Capitol & N SE, South Capitol & M SE, and the northwest corner of Half & M SE.) Rates and details are still to come, and it's possible that season passes for the lots may be sold as well. If you're interested in keeping updated on these three lots and don't trust me to tell you the latest (boo), you can e-mail
natsparking@monumentrealty.com
to be added to their distribution list.
What seems to be causing some angst, though, is that the $5 economy lot under the SW Freeway at South Capitol Street, known as HH, is also apparently no longer in the official inventory. I haven't been able to track down who is running that lot to find out if it will still be available for cash parking, but will keep trying.
There appears to be one new official Nats lot this year, labeled Lot P, positioned on the team's map next to existing Lot K. If that position is correct, it would be at
1015 Half Street
, which would make it garage parking, though it's not labeled as such on their map. I've written the team to confirm that 1015 Half is the actual location, but have not heard back.
I've also been in touch with folks at the
Yards
and they say that they are planning to offer the same parking lots as they did last season, including the "new" lot that became available at 1st and M when the National Geospatial Intelligence Agency folks decamped in 2011. Prices for those lots are still under discussion. (
UPDATE, 2/25:
The folks at the Yards are clarifying and now saying that their easternmost lot, on 4th south of Tingey, won't be available this year. Map is updated.)
It also looks like the Nationals raised the
single-game parking prices
for Lots T and U on 3rd Street by $1 for non-"prime" games, to $21 and $26, respectively. ("Prime" game cash prices at the official lots range from $15 to $45, compared to $10-$42 for nonprime.)
Season ticket holder prices
seemed to go up by $2 in most lots, except for Lot T ($1) and Lot W, which remains the one "economy" lot at $10.
As to whether the non-official cash lots scattered around the neighborhood that were available in 2012 will still be operating in 2013, we may just have to wait until Opening Day to see what lots are operating where, and for what prices. (For now, I've left the 2012 prices on the map.) The only non-official cash lot from 2012 that I know to be gone this year is the old Lot K at 2nd and H, which is now where the big
Park Chelsea
hole is being dug.
I've updated my
Stadium Parking map
with all the changes that I know of, and will keep updating it as more information becomes available. And any tips on the cash lots' operations as the season gets underway are always
appreciated
.