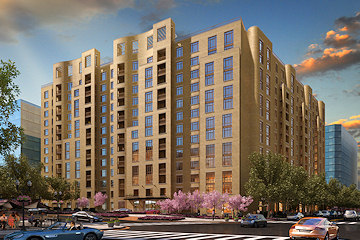 While there's been a lot of work going on at the site since the beginning of the year, it's only now that it can truly be said that work has begun on the
432-unit Park Chelsea apartment building
at New Jersey and I Streets, SE.
Developer William C. Smith has closed on a $100 million construction loan (which they are calling the largest one secured for a DC residential project this year), and if you look down on the site from on high, you can definitely see earth being moved, separate from the huge shafts built over these past few months to facilitate the relocation of deep infrastructure beneath the site. (There was also that whole
demolishing of the trash transfer station
just to the south of the project's footprint, since a small corner of that old building extended onto the Park Chelsea land.)
The cost of the entire project is pegged at $150 million.
The Park Chelsea is expected to deliver late in 2014, and will have three levels of below-grade parking, both indoor and outdoor pools, a rooftop garden with a dog park, an electric car charging station, and a "state of the art bike storage and maintenance area." It's also just the first phase of the development of the entire block bounded by New Jersey, 2nd, H, and I, which is expected to have 1,200 residential units and 75,000 square feet of retail when it is all completed; plus, H and I streets will be built through between 2nd and New Jersey. It's also just a few steps away from the
so-close-to-opening-you-can't-believe-it
Canal Park
.
The Park Chelsea is now the second new-construction multi-unit residential building to start in Near Southeast in 2012, along with
Forest City's Twelve12
apartment building (home also to Harris Teeter and
Vida Fitness
) at the Yards.