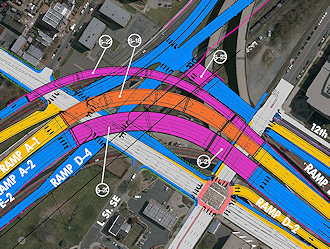 The 11th Street Bridges folks were nice enough to pass along a more recent drawing (March 2012, Concept Only! Not for Construction!) that shows the
11th Street Bridges
' project
Phase 2 plans
.
They were also nice enough to pass along a
very
large
version of this more recent drawing, enabling me to post a
very large
image
in on the new ramps and lanes
along and over 11th Street on the west side of the Anacostia River, and how the new Southeast Boulevard with a new signalized intersection at 11th Street will be built along what used to be the eastern end of the Southeast Freeway. It also shows the extension of 12th Street north of M to the new boulevard, along with all of the turn lanes and other movements. (All of this assuming the designs don't change.)
It's also handy if you haven't committed all the Phase 1 ramps and flyovers and lanes and paths to memory--they are shown in yellow and orange, while the Phase 2 plans are in blue and pink, and decommissioned roads and ramps are in a subtle x'ed-out motif. So, for the heck of it, here's a
not-quite-so-enlarged image
showing the entire project, on both sides of the river. Also, if you missed it, my
photo gallery of the project's current state
, from earlier this month.
(I should note that this map doesn't include how upcoming changes to Barney Circle might look, because that's
still under deliberation
.)