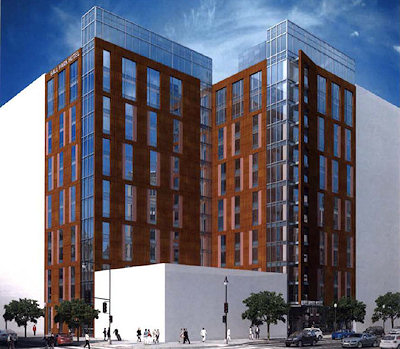 Late last week, "Capital Riverfront Hotel LLC" * submitted to the Zoning Commission plans for a 167ish-room hotel on the small L-shaped lot that the Welch family has owned for a number of years at 1st and N Streets
just north
of
Nationals Park
.
According to documents submitted as part of the required
Capitol Gateway Overlay Review
, the development would have no ground-floor retail along either 1st or N.
Also, the developers are requesting that they be able to provide zero below-ground or on-site parking instead of the 44 spaces that would be required by current zoning regulations, saying that the hotel would provide valet parking services, and also would emphasize the building's location near Metro, Circulator, and other transit options.
(Needless to say, it would be interesting to see exactly how valet service on 1st just north of N would work during a sold-out baseball game going on a few feet to the south, given how 1st fills up with traffic heading toward the parking lots at the Yards.)
As seen in the above rendering, the site for the proposed hotel wraps around the two-story retail building that has been proposed as part of its 660,000-square-foot
Ballpark Square development
that I've written about over the past few months, which would have its own 170ish-unit hotel, positioned between a 224,000-square-foot office building fronting M Street and a 285ish-unit residential building toward the south end of the street, as well as the retail building, separated from the rest by the Welch lot.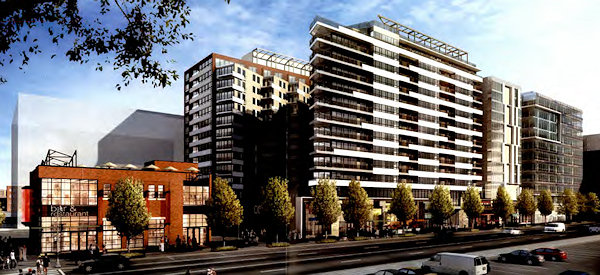 Recently "Ballpark Square LLC and SCD Acquisitions LLC" (which appears to be a team headed by Grosvenor, with Skanska and McCaffery Interests also on board) submitted updated designs for that project in advance of its Oct. 1 zoning hearing, in which the residential building just to the north of the L-shaped lot has had its U-shaped design reconfigured to open to the south, giving residents in the courtyard-facing units some amount of a view toward Nats Park. Which of course would completely disappear if the hotel were to be built right up against the property line. (You can compare the white box in the top rendering to the red-brick building at the right of this rendering to place the proposed hotel's location vis-a-vis the residential building.)
The updated filing by Grosvenor et al even gives oblique reference to the goings-on, saying "As will be discussed at the hearing, the Applicant is exploring alternative residential layouts to address the potential future development of the parcel to the south of the residential component."
It does lead one to wonder what if anything might be going on behind the scenes between the two parties. And also exactly how the Zoning Commission might feel about the hotel's designs as initially submitted.
* Points immediately deducted for the wrong spelling of Capitol.