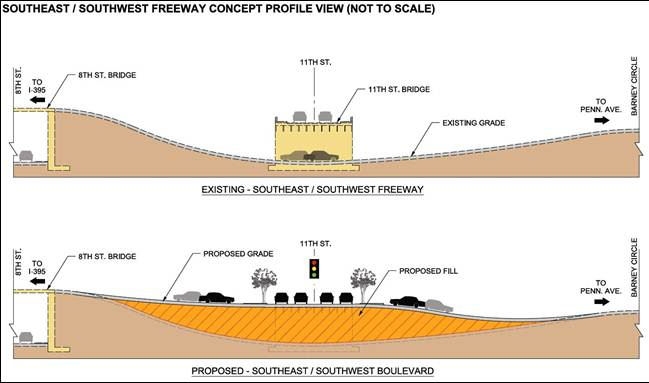 An advisory sent out by DDOT this afternoon (
now online
) has announced some upcoming changes to the traffic flow on the Southeast Freeway east of 8th Street, SE, as the work begins to get underway for the creation of the new at-grade boulevard that will take traffic to and from the Southeast Freeway and Barney Circle.
Starting Monday, Sept. 17, after morning rush hour, westbound traffic from Barney Circle to the freeway on the current below-grade lanes will be reduced to a single lane. By November, DDOT says, the westbound lanes will be closed completely, and by January the eastbound lanes will be, too.
DDOT also says that, starting Monday, vehicles will no longer be permitted to turn left from southbound 17th Street SE to reach the restricted access lanes under Barney Circle.
Over an 18- to 20-month period, the below-grade area between 8th and 13th streets SE will be raised about 20 feet, and the new boulevard will be created, as seen in
this DDOT graphic
. Since 11th Street currently crosses the below-grade lanes on a bridge, this means that that "bridge" will become an at-grade roadway as well.
And, speaking of that section of 11th Street, the advisory says that the new entrance to the westbound Southeast Freeway from 11th Street will open by Thanksgiving, allowing people on the eastern side of the Hill to get on the freeway at 11th rather than taking Virginia Avenue all the way to the 3rd Street SE ramp.

This work is all part of the
now-funded $90 million second phase
of the
11th Street Bridges project
, and also will include a new three-lane outbound bridge from the SE/SW Freeway to the 11th Street/I-695 bridge. In addition, 12th Street SE will be extended north from M Street to connect to the new Boulevard, and there will also be a reconfiguring of Barney Circle itself.
In the meantime, work continues on the many Phase 1 connections still being built, including a new off-ramp on the east side of the river from northbound DC-295 to the new 11th Street Local Bridge, which should be opening by the end of this month. Quoting DDOT: "This will allow Navy Yard morning rush-hour commuters coming from Suitland Parkway and northbound I-295 with more of a direct route to their facility as well as local traffic direct access to Historic Anacostia. Traffic will exit on the Anacostia side of the river, travel across the 11th Local Street Bridge and enter the Navy Yard at the O Street Gate."
The much-anticipated ramp to northbound DC-295 from the outbound I-695 bridge is expected to open by Thanksgiving.