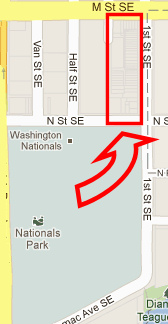 The
Washington Business Journal reported on Friday
that the city has put 300,000 square feet of "combined lot development rights" that it controls near
Nationals Park
up for bid, and that the likely target is the
new Square 701 project
that would bring a combined office/hotel/residential/retail project to the block along 1st Street SE where Nats Parking Lot F currently resides.
* a 224,500-square-foot office building at the corner of 1st and M;
* a 180-unit hotel just to the south of the office building, separated by a 30-foot-courtyard;
* a 292-unit residential project south of the hotel in two buildings, both parallel to 1st Street, with a courtyard between them and a glass bridge connecting them; and
* 43,000 square feet of retail, 36,000 sf of which will be in the office/hotel/residential buildings (called the "Main Parcel"), while the remaining 7,000 sf will be in a separate two-story retail-only building at the corner of 1st and N (on the "South Parcel"), with a design "inspired by the industrial character of the existing neighborhood."
The zoning hearing for this project--technically a
Capitol Gateway Overlay District Review
--has now been
scheduled for October 1
. (And hey, look at that, the hearing announcement mentions the applicant is also seeking approval "for the use of Combined Lot Development rights ['CLDs'].") The project will also likely come before ANC 6D at its September meeting. You can see some
early renderings here
, though I understand there have been some changes to the design since these were filed with the Zoning Commission.
(Note that WBJ lists the likely CLDs buyer as Willco, the developers who controlled the block for many years, but that the
zoning filings
on the project list
Grosvenor
as the Owner/Developer and
McCaffery Interests
as Development/Construction Management Services Consultants. Plus, "Ballpark Square LLC and SCD Acquisitions LLC" is
described as the "contract purchaser"
of the 81,000-square-foot lot. But no deals have shown up in land records just yet.)
And, commiserations to DC United Fans who saw "Buzzard Point" in the initial reporting on this story and immediately began dreaming of the team's new stadium....