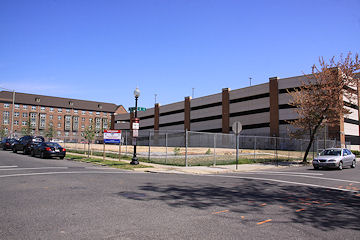 On Monday night, the Zoning Commission voted 4-0-1 to approve
DCHA's request
for a second two-year time extension on the PUD deadlines to build the Capper
Community Center
on the now-empty lot on 5th Street SE between K and L. With this vote, building permits would need to be filed by July 1, 2014, with construction needing to be underway by July 1, 2015, provided another extension isn't someday requested and granted.
The extension received votes of support from both ANC 6B and ANC 6D, and a letter from a steering committee of Capper public housing residents also expressed support. Commissioner Peter May, referencing the
"contentious" discussions in the past
regarding this project and his own unhappiness about seeing it delayed, said it was "reassuring to know that key members of the community are supportive," otherwise he would be "similiarly unhappy." But he did vote in favor of the extension, as did Chairman Anthony Hood and commissioners Marcie Cohen and Michael Turnbull. (The commission's fifth seat is currently empty, with vice chair Konrad Schlater's recent decampment for a new job in Chicago.)
Included the paperwork provided to the Zoning Commission is a
letter from DC Housing Authority executive director Adrianne Todman
detailing the various high-finance moves over the past few years that have helped the
overall Capper redevelopment
move forward but that haven't trickled down to fund the community center. The letter says that the Housing Authority anticipates a $55 million bond issuance within the next year that will pay off the previous $29 million Bond Anticipation Notes and provide enough proceeds to continue the infrastructure work around Capper "and to construct the community center, which we estimate will cost $7.6 million." These moves require legislation, so we'll be able to cast an eye toward the DC council this fall to see if things are progressing as anticipated.
Also in that letter is this tidbit: "Lastly, DCHA is working with and soliciting a potential anchor tenant that will operate the community center and also contribute funding for the construction of the community center." Very interesting....