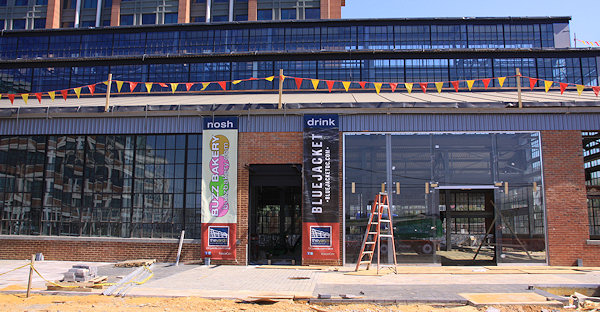 I checked out the progress at the
Boilermaker Shops
on Sunday, and of course have posted a slew of new images, which show some pretty striking changes to the building's exterior, including large glass panels at Bluejacket's space on Tingey near 4th, along with marketing banners to let passers-by know what's coming after the building opens later this year.
What you don't see, however, are banners for Austin Grill Express and brb ("be right burger"), and this is no oversight. Forest City has passed along word that the leases with Thompson Hospitality for those two food outlets have fallen through. But work continues to find replacement tenants, along with others for the spaces not yet filled.
It's still expected that the building will open later this year, although Bluejacket is aiming for an early 2013 opening.
(If you haven't gotten enough of Yards construction photos, here's the
hole in the ground
still being dug for
Twelve12
, the Teeter/apartments building at 4th and M. And bless whoever cut a few camera-sized holes in the fence along 4th Street.)