(a random before-and-after moment)
| | |
| --- | --- |
| | August 24, 2008 |

Half at I, Looking North-Northeast (

see more

)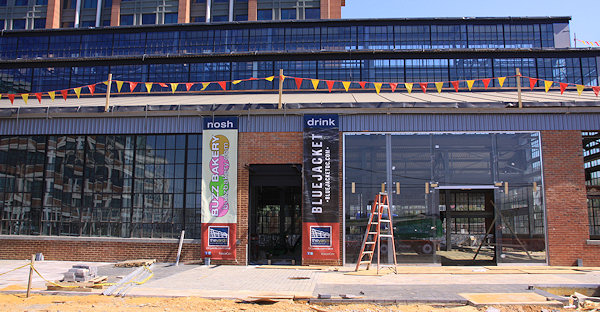 I checked out the progress at the
Boilermaker Shops
on Sunday, and of course have posted a slew of new images, which show some pretty striking changes to the building's exterior, including large glass panels at Bluejacket's space on Tingey near 4th, along with marketing banners to let passers-by know what's coming after the building opens later this year.
What you don't see, however, are banners for Austin Grill Express and brb ("be right burger"), and this is no oversight. Forest City has passed along word that the leases with Thompson Hospitality for those two food outlets have fallen through. But work continues to find replacement tenants, along with others for the spaces not yet filled.
It's still expected that the building will open later this year, although Bluejacket is aiming for an early 2013 opening.
(If you haven't gotten enough of Yards construction photos, here's the
hole in the ground
still being dug for
Twelve12
, the Teeter/apartments building at 4th and M. And bless whoever cut a few camera-sized holes in the fence along 4th Street.)

JDLand.com's Official Unofficial Guide, Updated for 2015!


Records added or updated recently displayed here; click the "archive" links to see additional detail and older records. All data from DC Government databases and RSS feeds. JDLand takes no responsibility for errors, omissions, etc. (read CapStat disclaimer). Data is retrieved daily.


UNIT B/O I ST SE
BURGLARY
2nd Degree Burglary (Armed Or Otherwise)
05/02/15
1000 B/O 8TH ST SE
THEFT F/AUTO

05/01/15
1100 B/O NEW JERSEY AVE SE
THEFT
2nd Degree
04/26/15
1100 B/O NEW JERSEY AVE SE
THEFT
Theft 2 (Theft F/Building)
04/25/15
THEFT
Theft 2 (Theft F/Building)
04/23/15
400 B/O M ST SE
THEFT
2nd Degree
04/22/15
1000 B/O 3RD ST SE
THEFT
2nd Degree
04/20/15
1100 B/O NEW JERSEY AVE SE
THEFT
2nd Degree
04/12/15
1100 B/O NEW JERSEY AVE SE
THEFT
2nd Degree
04/10/15
100 B/O L ST SE
THEFT
Theft 2 (Theft F/Building)
04/10/15
100 B/O K ST SE
THEFT F/AUTO

04/08/15
50 B/O M ST SE
THEFT
2nd Degree
04/07/15
100 B/O K ST SE
THEFT F/AUTO
Theft From Auto 1
04/04/15
400 B/O M ST SE
THEFT
Shoplifting
04/03/15




| | |
| --- | --- |
| Active Public Space Permits | Archive |

1401 11TH ST SE
Maryland Transit Administration
Issued


new

12/30/14
to
12/29/15
861 NEW JERSEY AVE SE
CSX Transportation Inc.
Assigned


paving; excavation

01/09/15
to
10/09/15
1100 NEW JERSEY AVE SE
Capitol Riverfront BID
Issued


streetfixture; new

08/19/14
to
08/18/15




| | |
| --- | --- |
| Recent Issued Building Permits | Archive |

1011 1ST ST SE

04/20/15

COLIN CLARK / MICHAEL BIANCO; COLIN CLARK; MITCH PERMUY

E98099105 / SUPPLEMENTAL

1277 1ST ST SE

04/15/15

BALLPARK RESIDENTIAL LLC / CLARK CONSTRUCTION GROUP LLC

AH1500366 / CONSTRUCTION

ON-SITE PROJECT WORK AND TRUCK DELIVERY HOURS 6:00AM - 7:00PM MONDAY THROUGH SATURDAY FOR THE PROJECT DURATION AND THE FOLLOWING HOLIDAYS: EMANCIPATION DAY 4 / 16 / 15 COLUMBUS DAY 10 / 12 / 15 VETERANS DAY 11 / 11 / 15

1331 2ND ST SE

04/27/15

CORMAN CONSTRUCTION

AH1500391 / CONSTRUCTION

ADDITION OF STRUCTURES TO EXISTING FOR SEWER DIVERSION

1331 4TH ST SE

04/17/15

CLARK CONCRETE

AH1500371 / CONSTRUCTION

AFTERHOURS TO POUR CONCRETE ON ROOF FROM 4 / 20 / 2015 TO 5 / 20 / 2015 FROM 7PM TO 7AM

04/21/15

FC 1331 LLC / JAMES G HOLT

E1505081 / SUPPLEMENTAL

04/28/15

FC 1331 LLC / JOHN E KELLY

E1505324 / SUPPLEMENTAL

1150 5TH ST SE

04/15/15

DGS DCPS / BRUCE PAIGE INDUSTRIAL SERVICES

B1506192 / CONSTRUCTION

REPLACE EXISTING INOPERABLE GENERAC GENERATOR WITH A NEW 6.7L GENERAC GENERATOR

04/28/15

DISTRICT OF COLUMBIA / TYRAN D. BRANNUM

E1505319 / SUPPLEMENTAL

1007 8TH ST SE

04/28/15

CALLE OCHO LLC / DONALD V. ELLENBERGER

M1501749 / SUPPLEMENTAL

1015 HALF ST SE

05/01/15

PRUDENTIAL / KRISTINA DELGADO

B1506909 / CONSTRUCTION

INTERIOR ALTERATION TO PARTIAL 1ST FLOOR SECURITY SUITE MAILROOM AND STORAGE.

05/01/15

HALF ST SE LLC / JOSEPH J FLYNN

E1505425 / SUPPLEMENTAL

82 I ST SE

04/24/15

GREYSTAR /RCP DEVELOPMENT / KIM MITCHELL CDKM CONSULTING LLC

SH1500031 / CONSTRUCTION

REVISION TO PERMIT #SH1400084 TO REMOVE TIE-BACKS - ALL BRACING WILL BE ENTIRELY FROM INSIDE THE EXCAVATION BY USE OF CROSS LOT AND CORNER LOT AND RACKERS IN AN EFFORT TO KEEP ALL MEASURES INSIDE THE PROPERTY LINE.

05/01/15

CSX TRANSPORTATION INC / KIM MITCHELL

FD1500026 / CONSTRUCTION

FOUNDATION TO GRADE WORK FOR NEW 13-STORY RESIDENTIAL PROJECT AT EYE STREET AND NEW JERSEY AVE SE

41 L ST SE

04/30/15

WASHINGTON METROPOLITAN AREA TRANSIT AUTHORITY C/O MRP REALTY / JOHN DIEHL C/O ECC INC.

SB1500258 / CONSTRUCTION

DUE DILIGENCE INVESTIGATION: INSTALLATION OF FIVE 3-INCH DIAMETER GEOPROBE SOIL BORINGS EXTENDING TO DEPTHS OF 25 FEET BELOW GRADE. BORINGS WILL BE ABANDONED ON THE SAME DAY AS DRILLING VIA TREMIGROUT APPLICATION OF BENTONITE SLURRY CONSISTING OF TWO POUNDS OF BENTONITE POWDER TO ONE GALLON OF WATER.

55 M ST SE

04/14/15

HINES GLOBAL REIT / JOHN GIUSEPPE-RAMCO

TL1500090 / CONSTRUCTION

FIRST TIME TENANT CONSTRUCTION FOR NEW OFFICE SPACE ON THE 9TH FLOOR FINCANTIERI MARINE GROUP AS SHOWN ON THE ATTACHED THIRD PARTY REVIEWED AND APPROVED MECH. PLUMB. ELECT. FIRE PROTECTION AND ARCH. PLANS BY KTA GROUP. INTERIOR WORK ONLY. NO CHANGE IN USE.

04/15/15

HINES GLOBAL REIT / JOHN GIUSEPPE-RAMCO

TL1500077 / CONSTRUCTION

TENANT LAYOUT TO CONSTRUCTION NEWTHIRD FLOOR OFFICE SPACE FOR GREAT MINDS AS SHOWN ON THE ATTACHED THIRD PARTY REVIEWED AND APPROVED MECH. PLUMB. ELECT. FIRE PROTECTION AND ARCH. DWGS. BY KTA. INTERIOR WORK ONLY NO STRUCTURAL WORK INVOLVED.

04/17/15

HINES GLOBAL REIT 55 M STREET LLC /

P1505068 / SUPPLEMENTAL

04/22/15

HINES GLOBAL REIT 55 M STREET LLC / JOSEPH SAFFER

P1505229 / SUPPLEMENTAL

80 M ST SE

04/20/15

WELLS REIT II 80 M STREET LLC / JOHN GIUSEPPE-RAMCO

B1503697 / CONSTRUCTION

RENOVATIONS TO EXISTING 5TH FLOOR OFFICE SPACE FOR TASC PHASE I AS SHOWN ON THE ATTACHED THIRD PARTY REVIEWED AND APPROVED MECH. PLUMB. ELECT. FIRE PROTECTION DEMOLITION AND ARCH. DWGS. BY KTA. INTERIOR WORK ONLY. NO STRUCTURAL WORK INVOLVED. NO CHANGE IN USE.

04/22/15

WELLS REIT II 80 M STREET LLC /

P1505220 / SUPPLEMENTAL

50 M ST SE

05/01/15

KCG 50 M LLC

SH1500032 / CONSTRUCTION

REVISION TO SH1400087 TO CHANGE SHEETING / SHORING DESIGN AND TO CHANGE THE CONTRACTOR.

55 M ST SE

04/23/15

HINES GLOBAL REIT 55 M STREET LLC / BERNARD D SASSER

E1505192 / SUPPLEMENTAL

80 M ST SE

04/21/15

WELLS REIT II 80 M STREET LLC / RONNIE E WRIGHT

E1505080 / SUPPLEMENTAL

04/21/15

NOT AVAILABLE NOT AVAILABLE / NEIL NUTWELL; NOT AVAILABLE NOT AVAILABLE; NEIL NUTWELL

P84507258 / SUPPLEMENTAL

04/21/15

UNKNOWN UNKNOWN / PATRICK BARRON; UNKNOWN UNKNOWN; ROBIN MALLEY

E38207212 / SUPPLEMENTAL

04/22/15

WELLS REIT 80 M STREET LIC / FRED MILLER; WELLS REIT 80 M STREET LIC; DOMINIC TOTARO

AR62521964 / SUPPLEMENTAL

04/23/15

TASC TASC / KEVIN HOOVER; TASC TASC; KEVIN HOOVER

E43277941 / SUPPLEMENTAL

100 M ST SE

04/28/15

SQUARE 743 INC / DAVID RAINE; SQUARE 743 INC; DAVID RAINE

P38575591 / SUPPLEMENTAL

300 M ST SE

04/21/15

NA NA NA

EHOP1290001 / HOME OCCUPATION

800 NEW JERSEY AVE SE

04/27/15

BAKER DC LLC / CHRISTINE LONG

AH1500376 / CONSTRUCTION

AN AFTER HOURS PERMIT IS RESPECTFULLY REQUESTED FROM 7:00PM THRU 7:00AM MONDAY THRU SUNDAY

1000 NEW JERSEY AVE SE

04/13/15

CAPITOL HILL TOWER HOUSING COOPERATIVE INCF / BRIAN DENNIS

P1504947 / SUPPLEMENTAL

1500 SOUTH CAPITOL ST SE

04/15/15

WASHINGTON NATIONALS STADIUM LLC / JOHN GIUSEPPE-RAMCO

B1506296 / CONSTRUCTION

REVISION TO BLDG. PERMIT B1503799 NEW TEAM STORE AT NATIONALS PARK AS PER THE ATTACHED THIRD PARTY REVIEWED AND APPROVED REVISED MECH. PLUMB. ELECT. FIRE PROTECTION AND ARCH. PLANS BY ECS MID ATLANTIC LLC. ORIGINAL APPROVED PLAN SET ATTACHED ALONG WITH WRITTEN DESCRIPTION OF CHANGES MADE.

04/17/15

WASHINGTON NATIONAL STADIUM LLC / DOMINIC E TOTARO

M1501639 / SUPPLEMENTAL

04/17/15

WASHINGTON NATIONALS STADIUM / STEPHEN J. EXELBERT

P1505092 / SUPPLEMENTAL

04/22/15

WASHINGTON NATL STADIUM / JAMES W. SCHIFFHAUER

E1505137 / SUPPLEMENTAL

04/28/15

JOHN GIUSEPPE / DONALD VEALS; JOHN GIUSEPPE; DONALD VEALS

E55177883 / SUPPLEMENTAL

355 WATER ST SE

04/29/15

TOUR DE FAT / PAUL GRUBER

TN1500105 / CONSTRUCTION

SPECIAL EVENT TOUR DE FAT 1 36X24 STAGE 1 16X24 STAGE 6 20X20 TENT 35 10X10 TENTS 1 20X20 HEXAGON CABARET TENT YARD PARK ALL TENT TO BE INSIDE THE PARK (42 TENTS)

1409 WATER ST SE

04/28/15

D.C. WATER /

B1507009 / CONSTRUCTION

TO INCLUDE A TEMPORARY WOOD POLE WHICH WILL BE THERE FOR 5 YEARS WHICH IS THE ESTIMATED TIME IT WILL TAKE TO COMPLETE THE ANACOSTIA RIVER TUNNEL PROJECT.

AH = After Hours; B = Alteration & Repair; D = Demolition; E = Electrical; FB = Boiler; M = Mechanical; P = Plumbing and Gas; PC = Post Card; R = Raze; SG = Sign; TL = Tenant Layout; TN = Tent; RW = Retaining Wall;



1022 - 1109 M ST SE
03/27/15
$ 5,000,000
WASHINGTON HUMANE SOCIETY
9TH ST SE
03/03/15
$ 3,730,000
818 POTOMAC AVENUE SE LLC
POTOMAC AV SE
03/03/15
$ 3,730,000
818 POTOMAC AVENUE SE LLC
POTOMAC AV SE
03/03/15
$ 3,730,000
818 POTOMAC AVENUE SE LLC
POTOMAC AV SE
03/03/15
$ 3,730,000
818 POTOMAC AVENUE SE LLC
1103 9TH ST SE
03/03/15
$ 3,730,000
818 POTOMAC AVENUE SE LLC
1105 9TH ST SE
03/03/15
$ 3,730,000
818 POTOMAC AVENUE SE LLC
816 POTOMAC AVE SE
03/03/15
$ 3,730,000
818 POTOMAC AVENUE SE LLC
0819R L ST SE
03/03/15
$ 3,730,000
818 POTOMAC AVENUE SE LLC
1201 HALF ST SE
02/19/15
$ 9,000,000
WEST HALF RESIDENTIAL II LLC
N ST SE
02/19/15
$ 36,000,000
WEST HALF RESIDENTIAL III LLC
0038 N ST SE
02/19/15
$ 36,000,000
WEST HALF RESIDENTIAL III LLC
0036 N ST SE
02/19/15
$ 36,000,000
WEST HALF RESIDENTIAL III LLC
R N ST SE
02/19/15
$ 36,000,000
WEST HALF RESIDENTIAL III LLC
0030 N ST SE
02/19/15
$ 36,000,000
WEST HALF RESIDENTIAL III LLC
0032 N ST SE
02/19/15
$ 36,000,000
WEST HALF RESIDENTIAL III LLC
N ST SE
02/19/15
$ 36,000,000
WEST HALF RESIDENTIAL III LLC
1275 HALF ST
02/19/15
$ 36,000,000
WEST HALF RESIDENTIAL III LLC
HALF ST
02/19/15
$ 36,000,000
WEST HALF RESIDENTIAL III LLC
M ST
02/19/15
$ 36,000,000
WEST HALF RESIDENTIAL III LLC
1ST ST SE
02/10/15
$ 1,913,472
BALLPARK HOTEL LLC
1ST ST SE
02/10/15
$ 1,913,472
BALLPARK HOTEL LLC
1ST ST SE
02/10/15
$ 1,913,472
BALLPARK HOTEL LLC
1ST ST SE
02/10/15
$ 6,600,000
BALLPARK RESIDENTIAL LLC
1ST ST SE
02/10/15
$ 6,600,000
BALLPARK RESIDENTIAL LLC
1ST ST SE
02/10/15
$ 6,600,000
BALLPARK RESIDENTIAL LLC
1ST ST SE
02/10/15
$ 6,600,000
BALLPARK RESIDENTIAL LLC