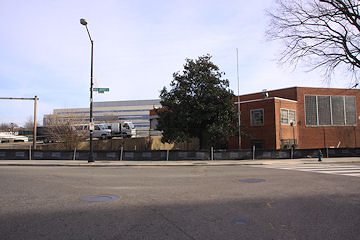 Last week a
demolition permit
was approved by DCRA for the ramp to the old trash transfer/DPW building on
New Jersey Avenue between I and K
, and over the weekend it looked like the appropriate heavy equipment was starting to move into place.
It's no secret that most everyone is itching to see the entire building get demolished--and that's not just residents, but also developer William C. Smith, which can't truly begin construction on its 433-unit
Park Chelsea apartment building
just to the north until the trash transfer building is gone.
The demolition of the ramp is a piece of the puzzle, though. The digging currently happening
north of the trash building
is WCS relocating some deep (deep!) utilities along New Jersey Avenue and in the footprint of what will eventually be the new I Street, and demolishing the ramp will allow that work to continue. Once the utilities are relocated, and the clearing of the area along the new I Street is completed, WCS can start the full excavation for the apartment building and the construction of I Street.
The DC Housing Authority is handling the razing of the building itself, since it is on the footprint of the
Capper/Carrollsburg redevelopment
. (Plans call for a 300ish-unit mixed-income apartment building to eventually be built there.) Demolition isn't too far off. Really. Truly. But best to not attach any time frame beyond "near term" to it.