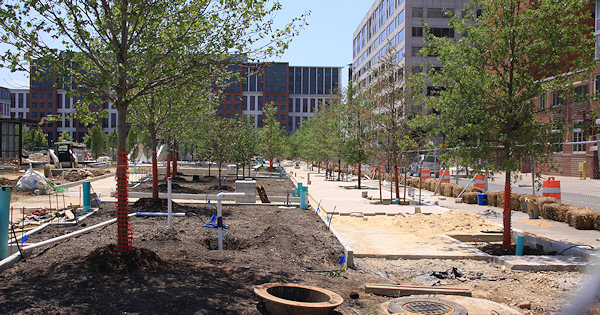 Although the temperature was a bit high for my liking, it still felt good to take a walk with camera in hand for the first time since April around
Canal Park
and
Capitol Quarter
to get a new batch of photos. And, thanks to the planting of numerous trees along with other visible improvements, my months and months of complaining about not really having much to photograph during the park's construction have come to an end.
With the arrival of the trees and some initial streetscaping now in place on the portion of L Street that runs through the park, you can now see how narrow the street is going to be in order to work to slow vehicular traffic as it crosses the park. (The completed streetscape will also give a visual cue to Slow The Hell Down.) K Street will get a similar treatment.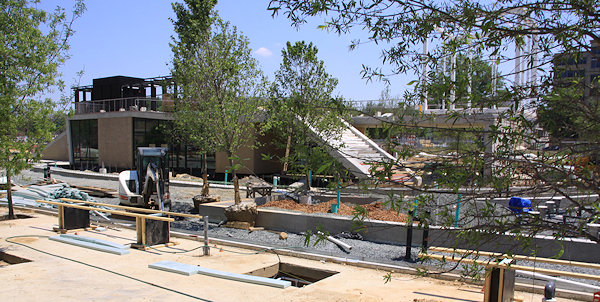 (Southeast corner of 2nd and K. I love the first shot, from nearly nine years ago, with lots of school buses and without USDOT.)
The
official Canal Park web site
can also give you more information, along with
these slides
from a
presentation
at last month's ANC 6D meeting. Though, judging from the people who chatted me up while I was poking my camera through the fences, we're long past the "what" stage and deep into the "when" ("WHEN!?!") stage. An opening in November is still the target.
Meanwhile, on
Capitol Quarter
's last block, framing has now gotten underway on 4th Street, with bricking and painting finished on the houses on the 3rd Street side. My suggestion is to scroll through the
Capitol Quarter Phase 2 Expanded Photo Archive
, because I can't imagine at this point the before-and-afters need much narration.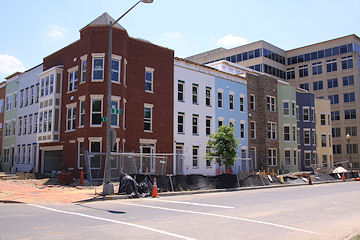 (Southeast corner of Third and L, in December 2004 [through the windshield!] and today.)