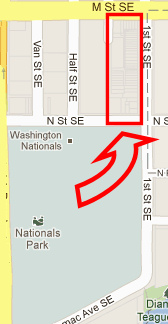 Back in March I wrote
that something was afoot
on the
block just north
of
Nationals Park
where Nats Parking Lot F resides, and new confirmation of that is a filing with the Zoning Commission for a review of a new mixed-use project that would bring office, hotel, residential, and retail spaces to 1st St. SE between M and N.
The zoning filing lays out the design of the 1st Street project ("Ballpark Square", mayhaps?) as:
* a 224,500-square-foot office building at the corner of 1st and M;
* a 180-unit hotel just to the south of the office building, separated by a 30-foot-courtyard;
* a 292-unit residential project south of the hotel in two buildings, both parallel to 1st Street, with a courtyard between them and a glass bridge connecting them; and
* 43,000 square feet of retail, 36,000 sf of which will be in the office/hotel/residential buildings (called the "Main Parcel"), while the remaining 7,000 sf will be in a separate two-story retail-only building at the corner of 1st and N (on the "South Parcel"), with a design "inspired by the industrial character of the existing neighborhood."
The zoning filing describes the site as having "the opportunity to become a linchpin for the entertainment district that the Distrct has long envisioned in the Ballpark area," and that it will "attract people who attend baseball games, but also provide the everyday amenities essential to the residents living in the project and nearby." And, "[p]erhaps most importantly, this project will convert a vacant site to vibrant and active uses that contribute to the rejuvenation of the Capitol Riverfront by complementing the epicenter of this community, the Ballpark."