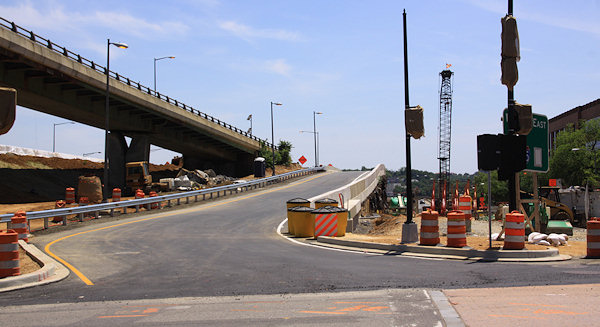 I managed to drag myself over to 11th Street on Saturday with camera in hand to check out the
new ramp that opened on Friday
from M Street up to the outbound freeway bridge (which I guess we'd all better start getting used to calling I-695 East). And of course I also then had to wander down to N Street, and then to O Street, to see the progress of the work on the 11th Street Local bridge, which
apparently
will also be opening soon (see
update
below), though I've heard it will be just a "partial" opening at first.
Here's a
gallery of 11th Street photos
, including explanations of what's going on. The pictures also show the work underway to get the final demolition and clearing done so that 11th Street can become two-way all the way down to the new local bridge. (Though this can't happen completely until the ramp at N Street to the old outbound bridge is demolished, which is why I imagine the new bridge is only "partially" opening, enough to route outbound traffic onto it so that the final demolition can be completed.)
But there's also this view from O Street east of 11th, looking southward, which, in comparing November 2005 to now, shows one heck of a change: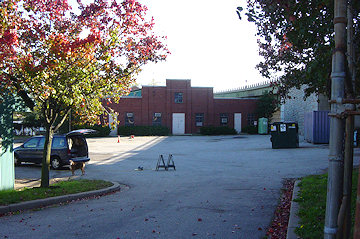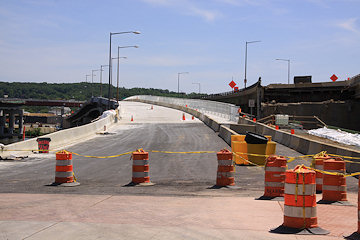 Once the local bridge is open, the next big milestone will be the completion of the ramps from I-695 eastbound to DC-295 northbound, and from DC-295 southbound inbound across the freeway bridge, both of which are traffic movements that did not exist before this project. (No more dealing with the left turn on Pennsylvania Avenue, or taking New York Avenue outbound, to get to DC-295 from Near Southeast, Capitol Hill, and the Southeast Freeway.)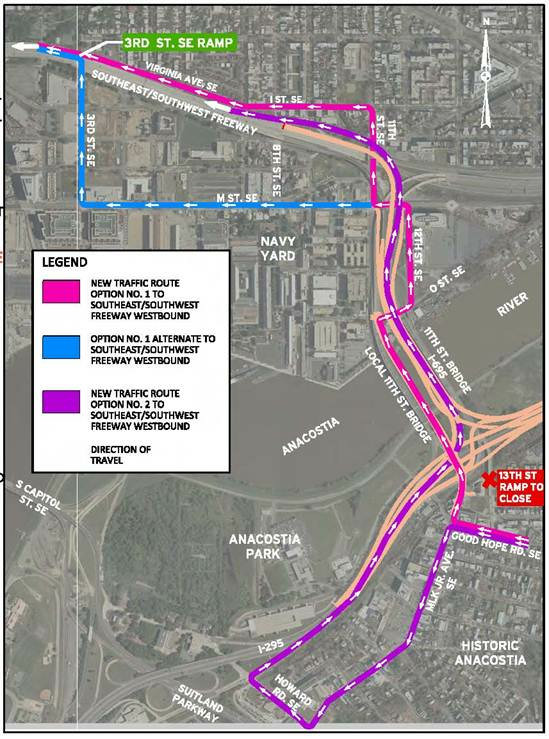 UPDATE, 5/21:
DDOT has just
sent out a release
saying that the 11th Street Local Bridge will open "on or about Thursday, May 24." It is indeed a partial opening: "There will be 2 lanes for inbound traffic and 1 lane for outbound traffic towards Anacostia. There will also be a temporary 6-foot separated walkway for pedestrians and cyclists. (The local bridge is scheduled to be completed this fall with 4 travel lanes and a permanent shared pedestrian/bicycle path)." The release also says that the new ramp from southbound DC-295 to the inbound freeway bridge will open in about six weeks, and that the new ramp from 11th Street to the westbound SE Freeway will open by July 4. Click the two images for maps of the temporary routes and patterns.
Note that inbound traffic from the new bridge will be routed up 12th Street SE and then through the 11th and M intersection. The designs for the new bridge have always shown 11th Street becoming two-way, and the work up to M Street would seem to indicate that's still the plan, but the release doesn't say anything about the 12th Street routing being "temporary." Guess we'll have to see.
UPDATE TO THE UPDATE:
Nah, as I've been saying all along (such as in
Saturday's photo gallery
), the 12th Street routing for inbound local bridge traffic is just temporary.