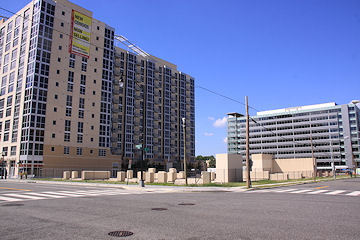 I've learned today that mega-developer
Toll Brothers
has purchased the Square 699N land directly north of the
Velocity Condos
building on 1st Street SE for $24 million, with the intention of building a 250ish-unit residential building.
In fact, the garage and below-grade structure for the Toll Brothers lot is already built--that's why you see all the funny beige boxes on the land, covering vent shafts and other infrastructure items. Cohen had planned to move forward with a sibling for Velocity soon after it completed the condo building, but that never came to fruition.
This would be Toll Brothers's first building in DC proper, I believe, but
they have plenty of offerings in the Metro area
. And, as I found out today, they don't just do single-family homes (
White Flint Station
is an example of a condo building of theirs in the area).
UPDATE:
SWill from across the way mentions in the comments that TB bought White Flint Station after it was completed and converted it to condos from apartments. Apologies for the assumption.
More to come on this, I'm sure. And it will no doubt be seen as another indication of the strength of Near Southeast's residential market.
[And I should add that Cohen still owns the third lot on the block, along Half Street.]