Take a gorgeous Sunday, add an obsessive-compulsive need to document all the change underway, and what do you get? Nearly eight miles of walking and a shameful number of new photos.
The
Foundry Lofts
building is all but done, with only the retail spaces left to be built out, so I took a bunch of "after" photos that will probably last for a while. But that new Potbelly sign sure stands out! I also pressed my nose against the glass to peek inside the sandwich shop's space--it sure doesn't look far from opening.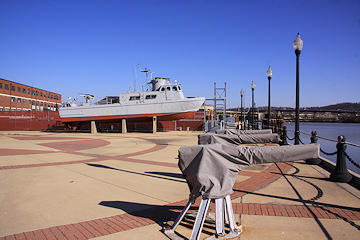 Embarrassingly, I haven't had a camera in hand on the Navy Yard's portion of the Anacostia Riverwalk since 2004. (I'm always worried they're going to toss me in the brig as a security threat, especially after a run-in a few years back where I was chased down by both a gate sentry and the DC police after taking photos of the Hull Street gate from across M Street.) But I pushed forward yesterday and got a bunch of new shots that I've added to my
Navy Yard page
, taking care to demonstrate to the many security cameras that I was photographing the river and not the installation. (Don't miss the especially cool before-and-after of the gate to the Yards Park.)
I will probably be creating a separate Riverwalk page before too long, but not today.
Then there's
Canal Park
, where I mainly took some new photos of the pavilion under construction near M Street, since photos of digging and ground work don't quite rise to the level of "interesting." I also hit most of the angles for the
Boilermaker Shops
, as well as for
Capitol Quarter Phase II
, where the security guard expressed concern about my actions (I need a laminated Photography Approved card or something). And I wandered the
225 Virginia/200 I
perimeter.
If you're a glutton for punishment, you can browse the
267 pictures from this trek
that are now in my
Photo Archive
, using the

links to see before-and-afters.