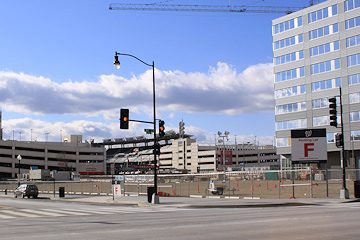 There is no official announcement of this, but after finding a detail buried deep in some public records that jibes with some whispering I heard a few weeks ago, I'm going to pass along the
rumor
that a deal is in the works that would bring developer
McCaffery Interests
to the empty
Willco Companies
lot on Square 701 along 1st Street south of M, where Nats Parking Lot F currently operates.
The chatter I've heard says that McCaffery has the land under contract, but no transaction has shown up so far in online property records to confirm this. However, a number of just-issued permits for soil borings on the lot have McCaffery Interests listed as the "agent," though not the land owner. Perhaps due diligence before completing a deal, or....?
If the chatter turns out to be accurate, it will be interesting to see what's in store....