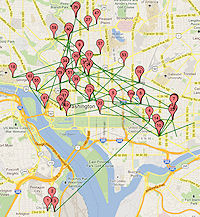 This is little more than an off-topic I-want-to-try-it exercise, but after reading JD Antos's
latest crunching
of the
Capital Bikeshare trip data
that came out last week, I decided to see what it would be like to map the movements of a particular bike.
I picked bike W01000, for no reason other than I saw it while I was browsing through the tables and thought it looked like a nice round number--I make no statements as to how representative it is of other bikes, except that it was in the system for all of 2011, except for a few brief periods when it either didn't hit the rider lottery or was out for maintenance. (And I ignored trips less than a minute long.)
So, want to know where Bike W01000 went on
December 1, 2011
? Or
July 4
? Or
my birthday
? Or any day of your choosing? Take a look and see. Of course, the green lines for "trips" are just as-the-crow flies, and are not the actual routes taken by riders (since the bikes don't have GPS transponders
THAT WE KNOW OF!!!
).
There's also a table below the map that shows the trips broken out in order for that day, which is handy on days with a number of trips where sometimes the push pins on the map get piled up on each other. Also, note that some trip lines end without a push pin--that's because the pins mark the start of trips, and so if a bike got re-balanced to another station, that ride's endpoint will be pin-less.
This is quick-and-dirty, so there are probably bugs.