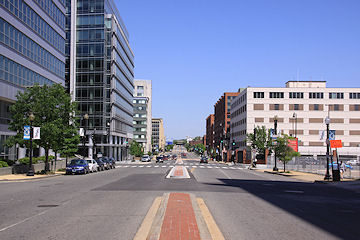 The meeting probably isn't even finished yet, but if you didn't (or did) stop by the first of DDOT's public meetings on their nine-month M Street SE/SW Transportation study, you can browse the
presentation slides
and take the
stakeholder survey
, already posted on the new
web site for the project
.
There were a pile of
high-powered
bloggers
and
transportation
geeks
in attendance, so I'm sure there will no shortage of coverage of both this meeting and the entire study that I will happily link to, but there wasn't much news coming out of this first session--it was mainly to introduce the study, talk about the methodology (which you can see in the
slides
) and then break up into small groups to stand around maps and give feedback about what attendees see as issues that need addressing. (But first, just as at the 2010 meeting, one woman who is particularly anti-bike once again
made
her
feelings
known.)
DDOT's representatives say they will be using some 33 other studies that have been done on the area in question as part of this overall study, covering the area from 14th St. SW to 12th Street SE south of the freeway down to the waterfront(s), though that then brought a comment from the audience about when studying is going to stop and there's going to be action.
There will be two more public meetings, one in March-ish and another in June-ish, with the study expected to be completed in August-ish.