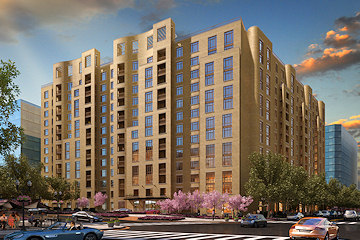 Developer William C. Smith is announcing today that the apartment project we've been referring to as
880 New Jersey
will be called the Park Chelsea, and is expected to get underway sometime during the second quarter of this year. And there's
even a rendering
now, and an
official web site
.
As
I reported a few months ago
, it will be 13 stories, with 433 units, which I understand will be broken down as 58 studios (about 466 avg sq ft), 281 one-bedrooms (606-738 sq ft), 92 two-bedrooms (1094 sq ft), and 2 three-bedrooms (1788 sq ft). There will be a courtyard garden, club room, gym, pilates/yoga studio, Jacuzzi, and 75-foot indoor lap pool on the ground floor. Then, up on the roof there will be a second pool along with the now-ubiquitous lounging/grilling area, as well as a "community garden" and dog exercise area. There will also be 1,500 square feet of "convenience" retail space on the ground floor, and three levels of underground parking. (They previously mentioned to me a bicycle entrance to a sizeable storage room separate from the car parking areas--I'm assuming that's still part of the plans, but I haven't confirmed.)
It's easy to notice
that site clearing that has begun along New Jersey--this is the start of the pre-construction infrastructure work that Smith needs to do in order to relocate some very very deep pipes beneath the block. The company also tells me that they expect DPW to be moving out of their site just to the south of 880 New Jersey about a month from now, which can begin the chain reaction of getting the old trash transfer building demolished so that lots can be split and land transferred along the to-be-built I Street axis. Vertical construction on 880 NJ can't begin until all of that happens, so that will be a pretty easy-to-watch guide to when real work on the new apartment building can begin.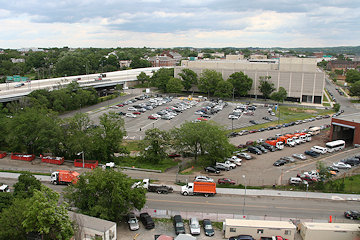 Once started, construction should take about two years.
This is the first phase of Smith's plans for
Square 737
, seen at right back in 2008. Originally the company had planned two residential buildings and two office buildings, but now they're looking toward filling the block with apartments, totalling around 1,200 units in four buildings. (And note that the entire four-building project is "matter of right," so there will be no zoning reviews or PUDs.) It's anticipated that there will be greater amounts of retail in the two buildings that will front 2nd Street, near
Canal Park
and across from
225 Virginia
.
While this will be William C. Smith's first apartment project in Near Southeast, they have been working in the neighborhood for a number of years, and literally working here since 2004 (when they opened 1100 New Jersey Avenue and moved their offices there). They have also been a big player in the creation of
Canal Park
, and are part of the
Capper
PUD team as the developers of the planned
250 M Street
office building.