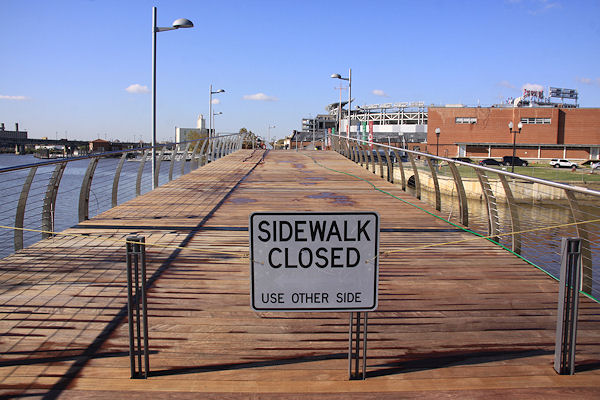 The word is going out that the official dedication of the new pedestrian bridge connecting the
Yards Park
and
Diamond Teague Park
will be held on
Tuesday, Nov. 22, at 1:30 pm
. The mayor is expected to be there, along with George Hawkins of DC Water (since the bridge runs right past the
main pumping station
) and I'm sure a slew of other dignitaries.
This is the bridge that will allow for an easier and more enjoyable stroll between the Yards Park and
Nationals Park
, depositing stadium-goers right across the street from the Grand Staircase/1st Base Gate at 1st Street and Potomac Avenue. And it will also allow water taxi customers disembarking at Teague Piers to get to the Yards Park without having to hike up to Tingey Street and then over a few blocks. (Eventually the Yards Park will have its own marina and water taxi piers, but not for another few years.)
Hope they have good weather for the ribbon cutting!