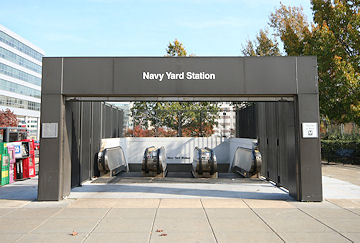 The long road to giving the Navy Yard Metro station a new name seems to have at last come to its resolution, as
WMATA's board voted to approve
"
Navy Yard-Ballpark
."
With the city having a "private commitment" (rumored to be the Nationals) to pay the costs of the change, and with rider surveys
having shown a favorable response
to the new name, the board opted to approve DC's request instead of its staff's recommendation of putting Ballpark in as a secondary name.
This all started more than a year ago, with the Capitol Riverfront BID
initially wanting
some version of "Capitol Riverfront/Ballpark/Navy Yard." Then the Nationals started
pushing for adding the "Curly W"
, for some variant of
Navy Yard/Capitol Riverfront/


. Then WMATA came out with its
new naming guidelines
, including a requirement that names be no more than 19 characters, which prompted the BID to
ask for "Navy Yard" to be dropped altogether
.
ANC 6D then opted to support
Navy Yard-


, or Navy Yard-Ballpark if the Curly W wouldn't be allowed. DDOT then
officially asked that Navy Yard-Ballpark be forwarded
to WMATA for approval. Then we had the
staff recommendation
for a split primary/secondary naming. And then today's action. Wasn't that a cinch?
This change, along with dropping "SEU" from the Waterfront station name and
other changes around the system
, are to take place when Metro's new map debuts in June of 2012.