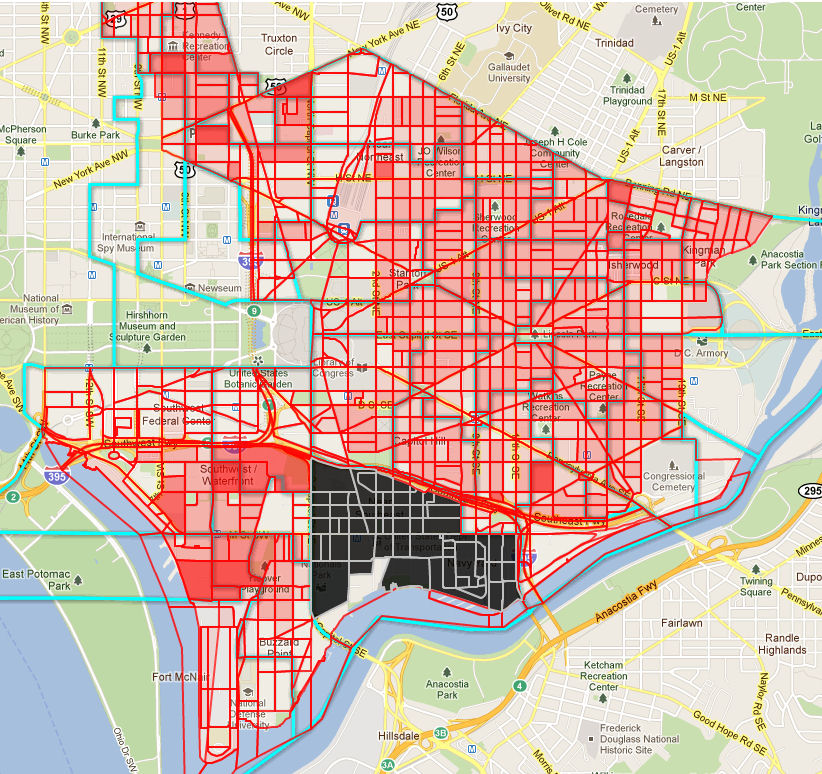 At a meeting on Monday night, the
Ward 6 Redistricting Task Force voted 4-3
to keep Near Southeast in ANC 6D, which also includes (almost?) all of Southwest, rather than moving it to ANC 6B, which includes most of southern and eastern Capitol Hill. If this sounds like something I've already posted, it kind of is, because last week the
task force voted to create ANC boundaries
that would keep Near Southeast in 6D, but had left open for another vote whether those boundaries should be tweaked to move Near Southeast to 6B.
I was not there, but tweets from attendees indicated that it was a vote that came down to wanting to listen to the many residents of Near Southeast who advocated being moved to ANC 6B versus not wanting 6B to be a 12-member commission if that move were to have happened. (A poll on the
task force web site
shows a nearly even split between people wanting Near Southeast moved to 6B versus keeping it in 6D; the
comments thread
on the subject also became a bit of a war between residents supporting the switch and mostly Southwest residents wanting Near Southeast to stay in 6D.)
But this is still not the final decision on the matter. The task force will include the unapproved move to 6B in the initial task force proposal "as an information item." The decisions the task force makes are not binding--ward redistricting task forces report to their council members, who can then tweak the proposal if they wish, and then the entire council votes on the proposed new maps. The Ward 6 task force will be attending ANC meetings in September to present their proposal and get feedback, and then will meet again on Sept. 19 before making their final recommendations.
As for how ANC 6D with Near Southeast remaining will be divided into seven single member districts, I was hoping that the task force would post its maps before I got around to writing this, but alas, no. (They say they hope to have the maps posted sooner than their Aug. 18 date for posting their entire initial report.) Unless they plan to stray from the guidelines that look to have SMDs drawn with populations of between 1,900 and 2,100, some portion(s) of the western part of Near Southeast will be part of an SMD with blocks across South Capitol Street, in Southwest.
If you want to try to come up with your own way to divvy up the 14,359 residents of Southwest into seven SMDs, you can
play with my redistricting map
. It will let you create up to three SMDs on one map, by clicking on the map to choose one set of blocks, then clicking the "Show Map with Selected Blocks Highlighted" link, then repeating those steps two more times.
But hopefully the proposed map from the task force will be posted soon.
And now back to my mini-break.