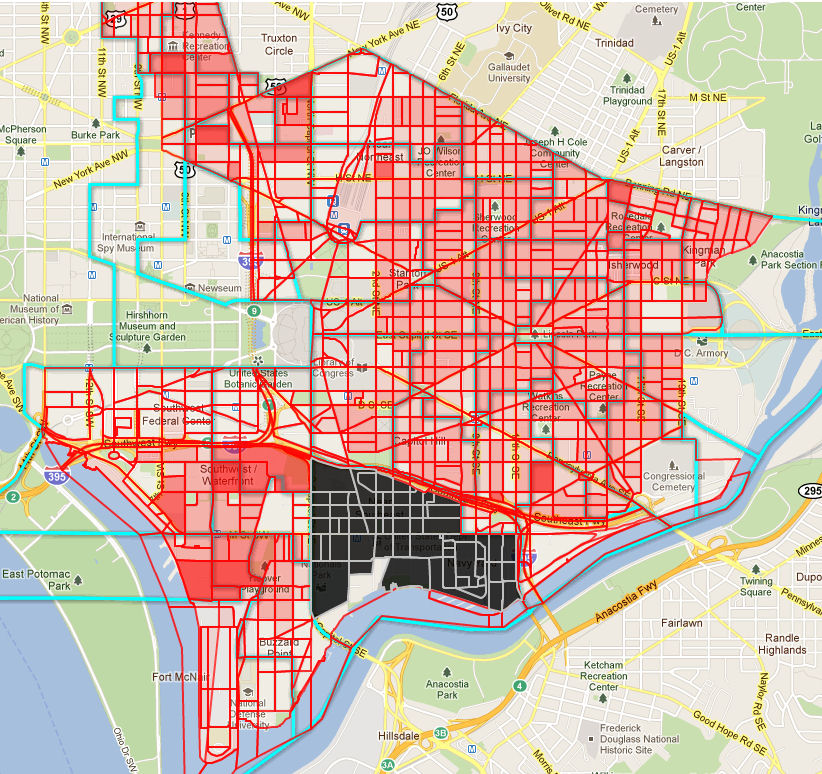 * It's not as slick and ultra-cool as SOME online redistricting tools, but with huge thanks to Cody Rice for getting the data in order, I've built a rudimentary
Ward 6 Census Block Population Map
. Right now it's mainly just for clicking on a bunch of blocks and having the populations tallied for you (and you can then have a URL to send to someone showing just those blocks). I will be continuing to tinker with it, so we'll see what additional options I add in. It's a bit of a beast, so be prepared for slow loading.
The Ward 6 Task Force on Redistricting has now
set up a blog
, and has started its "listening sessions" in each ANC. They'll be having their ANC 6D meeting on July 28 at 6:30 pm in the DCRA Hearing Room at 1100 4th St., SW. The ANC 6B meeting (which may also be of interest to folks south of the freeway, given the realities of the numbers) is on Aug. 1 at 6:30 pm at St. Coletta's School, 1901 Independence Ave., SE.
* For those wondering about the lack of progress on the Little Red Building version 2.0 (the former Star Market on the northwest corner of 2nd and L, next to the Courtyard by Marriott), the new building permits finally came through last week, and the owner tells me that construction should be starting again soon. He says the new Lot 38 Espresso should be open in three months, though he hopes it's sooner.