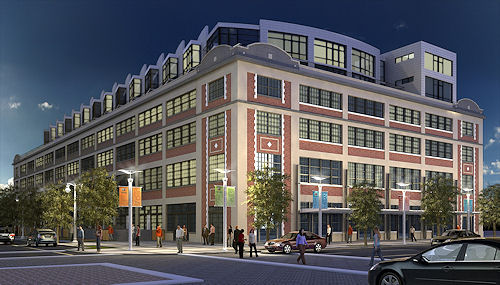 Just out from the
Foundry Lofts Facebook page
, a note saying "Mark your calendars Foundry Lofts fans! Pre-leasing starts August 15th, and we'll be opening this October!"
This is the old Pattern Joiner Shop on the southeast corner of 3rd and Tingey in the
Yards
, behind the
US Department of Transportation
building and just north of the
Yards Park
. Work to transform the 1918 structure into a 170-unit apartment building first began in 2008, but stalled later that year because of funding issues; work then re-started last August when new financing for the affordable housing units in the building
was secured
.
The building will also have ground-floor retail, with announcements on tenants expected "
soon
."
UPDATE: With a hat tip to reader mikescorpio in a different JDLand comment thread, here's the prices that the Foundry Lofts Facebook Info page list: "1-Bedrooms from $2,100s, 2-Bedrooms from $2,700s, Penthouses from $3,400s. Apartments Available October 15, 2011, Penthouses Available December 15, 2011."