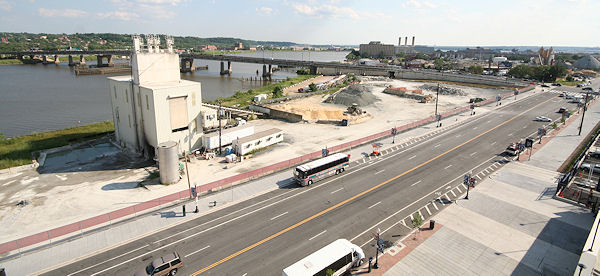 I've gotten a bit more information about the
raze permit application
at the
Florida Rock site
, the concrete plant on the banks of the Anacostia directly across from
Nationals Park
.
According to
Florida Rock Properties
, the owner of the site, the tenants are building a new plant on land also owned by FRP down South Capitol Street on Buzzard Point (at
S and Water streets
near the Pepco plant and the Coast Guard building). Once that new site is completed, the existing operations on Potomac Avenue will be shut down and the structures will be razed, which should happen sometime this summer (though timelines on these sorts of projects are never written in concrete, ha ha).
The plant is one of the last specimens of the ballpark area's previous life as an industrial zone, and has housed a gravel/stone/concrete operation since the 1920s, when Smoot Sand and Gravel operated there after moving from what is now the
Yards Park
site when the Navy Yard expanded its boundaries during World War I. I have taken
scads
of
photos
that have included it over the years, and should probably thank my lucky stars that I was never mowed down by any of the trucks coming in and out of there during all my photographing of the ballpark's construction. There was certainly a close call or two.
As I've noted about a billion times over the past eight years, the site's redevelopment plans call for a
1.1-million-sq-ft mixed-use four-phase development
, but Florida Rock Properties does not as yet have any deals in place to get this new "RiverFront" project started. In 2009 they
received a time extension
on their zoning PUD, and are not required to file building permits until June 2012. The site will probably remain fenced and unused in the interim, but at least the dismantling of the tower will finally allow unobstructed views of the Anacostia River, the Douglass Bridge, and the east bank of the river from the ballpark's
southeastern viewing platform
. Not to mention nicer views of the
ballpark from the river
, for boats such as those using the
Diamond Teague Piers
next door. At least until the new development goes up....