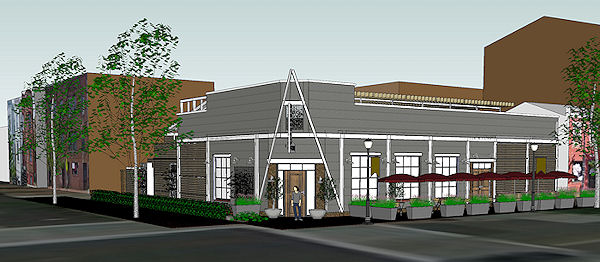 The proposed
8th Street Beer Garden
is back before the
Historic Preservation Review Board
, with a "substantially simplified"
design
that the board's staff has
deemed
sufficiently compatible with the character of the surrounding Capitol Hill Historic District.
The first floor is now proposed to have a brick veneer (though it's not really shown on the
new rendering
that the beer garden team was kind enough to pass along), and there have been other changes that
HPRB staff say
have improved the overall proportions of the building. There's also now a pergola (arbor) on the roof to help with shading on sunny days. Sidewalk seating spaces are also shown, though the developer will have to get a public space permit and work around the bus stop currently at the 8th and L intersection.
There are still a few small issues the HPRB staff would like to see addressed, but they have recommended that the concept be approved by the board, and the project has been placed on the consent calendar for the March 24 meeting. (Though the board may choose to remove it from consent if they have any issues they want to discuss before voting.)
You can see a larger view of this revised design alongside the previous version and some current photographs on my new
8th Street Beer Garden page
, which isn't exactly a barn-burner but at least it's something. (It goes hand-in-hand with my new
National Community Church page
, which has photos of the lots NCC now owns.)
The HPRB meeting is on Thursday at 10 am, and will be
available
via live streaming or on demand. (Or you could go to the meeting in person, but that's so 20th century.)
UPDATE, 3/24: The consent portion of the agenda passed with no discussion, so the design concept is now considered approved by the board ("as consistent with the purposes of the preservation act"), with final approval delegated to HPRB staff.