Saturday was a lovely day for taking a couple of walks with camera in hand, and with work underway at locations that couldn't be any closer to my out-of-neighborhood house, I had no excuse to not get some updated photos of
225 Virginia/200 I
,
Capitol Quarter Phase 2
,
Canal Park
, and the
Little Red Building
. (It was also nice chatting with the folks who correctly guessed that the oddball standing in the middle of the street taking photos must have been me.)
The showy demolition work is now well underway at 225 Virginia/200 I, and if the few shots and renderings on the
project page
aren't enough for you, you can do a
virtual walk around the block
to see which walls and windows are blown out at this point and to compare the current images with their "befores."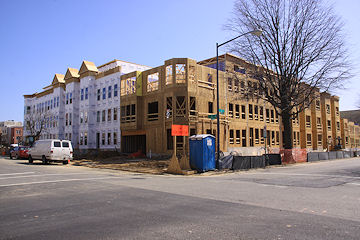 No time is being wasted at
Capitol Quarter
, where framing has now wrapped around from I to 3rd to K Street on the first block of Phase 2. You can
take a "walk" around that block
, too, if you haven't lately, or wander through the
project page
, both of which have plenty of images of the old Capper public housing buildings that were on this block for a very long time. I also added to the database some photos of what will eventually be the intersection of
3rd Place and L
, once the new street gets built through its second block south of K. If you're big on old Capper photos, there's a few "before" images of L Street buildings in that sent that haven't been displayed on the site before now.
If photographs of fences are your thing, take a "walk" around the
Canal Park perimeter
, to see many pictures of the "traffic control" now in place in advance of the start of construction on the park (presuming it ever actually comes). Those barriers are going to put a crimp in some of my standard shooting locations for the next year or so, including where I've stood for the past eight years to take photographs of the
Little Red Building
, which in its new incarnation is now more of a
brick red
than the beet red it used to be. ANC commissioner Garber
posted on Friday
that the roof is going in over the next few days, at which point work on the interior can begin, as it slowly progresses toward becoming "
Lot 38 Espresso
."
Remember that the

icon on any page gets you to the full batch of photos I've taken at any location (which, since I'm getting into the eighth year of doing this, can be kind of voluminous in some spots).
(I know that It seems kind of odd to still be posting photos when so many readers now live in the neighborhood, which of course wasn't always the case. But it's my schtick, and so I continue onward! Plus. there are plenty of people interested in Near Southeast who don't wander around every day--or maybe some of the residents don't know what these spots used to look like before....)