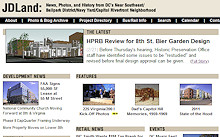 If you're actually visiting the
default JDLand.com home page
to read this post, you'll notice things look a little different. Again.
I've tinkered with the design, with the biggest change being the addition of a Latest News box at the top. Given the amount of content that flows through the site, it's easy for people who don't read it obsessively (i.e., most everyone) to miss big news as it quickly ages down the page and then off into the archive. And my Spidey Sense is tingling that 2011 is going to have more big stories from Near Southeast than it's seen during the past few years of The Great Recession, making it even more important that there's an easier way to catch up with the latest.
You won't see this box if you come to the site via a direct link to a blog post, but you can then just click on the "
See the Latest News
" link to get to it, which does nothing more than take you to the default home page.
However, note that I didn't do the Full
Gawker
and ditch the standard reverse-chronological display of blog entries. They're still on the home page, under "The Feed," requiring just a bit of scrolling or a click on the light-gray link at the top of the page. There's no change to the mobile home page, either.
And I couldn't bear to do away with the random before-and-after photos, though I moved them and shrunk them a bit.
But there is one fun addition:
Current Weather Conditions
! Since Weatherbug has a
station
at
Nationals Park
, I thought it'd be cool to have the local neighborhood weather report available, just like a *real* media site.
There's other tweaks here or there that few people other than me will notice, because I have to stare at this page way too much and after awhile I have to move the furniture around otherwise I'll go [more] insane.
I imagine there's a bug or two that I'll be stomping out over the next few days, but I hope that readers find this a useful addition, or at the very least not a tremendous imposition. (And, if you're reading this post via
RSS
or
e-mail subscription
or some other method, be sure to visit the home page to see the new additions.)
UPDATE: If the layout is acting weird, try doing a forced refresh (CTRL-F5). This is especially true with Chrome.