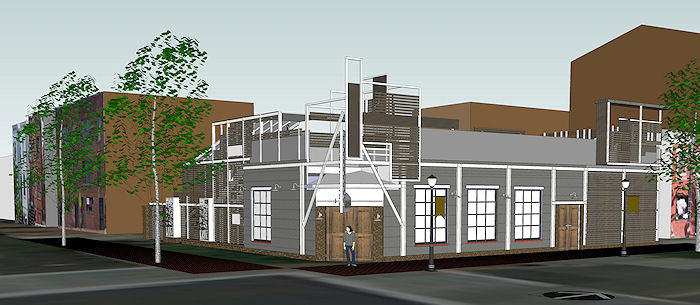 Posted on Friday was the
Staff Report
from the Historic Preservation Review Board on the design for the proposed
Bier Garden
at 8th and L, SE, as the owners of the site at 720 L continue to work toward constructing a one-story building with an accompanying summer garden and roof deck. (You can look to the left, or see a
slightly larger version
of the design, as it was
presented to ANC 6B
last week; 6B voted to support the design.)
If you're not up for reading all six pages yourself, here's my Zagat-style report on the report:
It makes for good reading if you're interested in how new buildings in historic districts are evaluated; you might be surprised (I was!) that design guidelines actually "discourage the exact duplication of historic styles," opting instead to encourage applicants to consider a new building as an "enhancement" to the district "while respecting the historic context." The report discusses how the decision to go with a one-story structure could draw on "the vernacular of Washington's modest industrial buildings and alley warehouses," and in fact the report includes a photo of the Bier Garden lot in 1949, when a one-story building housing a laundry/tailor stood on the site.
The report finds that the proposed massing of the new building does reflect the character of the historic district and "references recognizable attributes" of both industrial buildings and traditional beer gardens. The report also sees the rain screen and other more contemporary design choices as reflecting the "whimsy, casualness and somewhat ad-hoc nature of many outdoor beer gardens."
However, there are concerns that there are so many finishes applied "in so many different directions" that the result is a "somewhat chaotic and unfinished appearance," and suggests selecting one or two key ideas that would allow the building "to be showcased in a less hectic manner." Other major issues cited include choices on the roof deck (and the lack of any lighting or shade up there in the current design), the proportions of the doors, and the designs of the rain screens, as well as how the building's "streetscape presence" along both 8th and L.
The
report
ends with a recommendation that the applicants "restudy the issues outlined [...] as they pertain to the principles of design cohesiveness, proportion and scale, and streetscape presence." It's also recommended that the board delegate final approval of the design to the board staff once the comments from staff and the board are addressed in the revisions.
UPDATE: And now we return back to "Beer Garden" from "Bier Garden," as Mark Brody informs me that it was a typo on the plans.