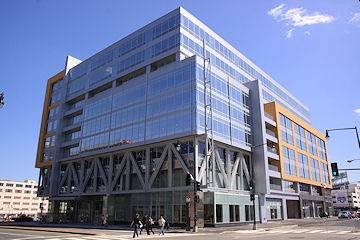 This was referenced in the flurry of stories on the company
a few weeks ago
, but Monument Realty has now officially announced that they have signed a 10-year 50,000-square-foot lease with the Federal Aviation Administration at
55 M Street
, the building on top of the Navy Yard Metro station just north of
Nationals Park
. With this lease, DDOT's 150,000-square-foot lease signed last fall, and two other smaller tenants, the 275,000-square-foot building is now 85 percent leased, with only three smaller office suites remaining (as well as all of the building's ground-floor retail space).
The press release says that the FAA is expected to move into their new spaces on the 8th and 9th floors in April, and that DDOT is expected to complete its move to the fourth through seventh floors during the second quarter of the year.
As for the rest of the
Monument Half Street
project, which as designed includes a 200-room hotel and 332 residential units and plenty of ground-floor retail to the south of 55 M, the press release quotes executive vice president Douglas Olson as saying that they are"actively working to move forward with Monument's next phase of Half Street."